Disclosure: SGE is a content partner with NewsLoop.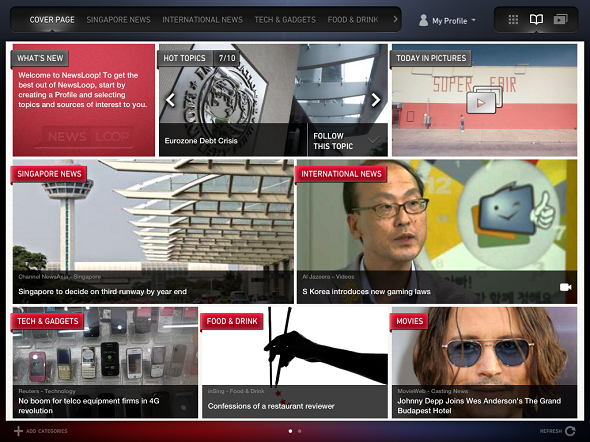 Now, Singaporeans have a new and free e-reader app made just for them. Developed by SingTel, Singapore's largest telecom company, NewsLoop lets users pick from from over 230 local and international news sources divided into 25 categories. For now, it is available only on the iPad, but an iPhone version is coming soon.
Once users pick what they want to read, the stories will be displayed in a visual format on the app's cover page, in a manner reminiscent of Flipboard, a popular social reader developed in Silicon Valley. And like Flipboard, you can add newsfeeds from Facebook and Twitter.
Some local favorites that users can select right away are TODAY, The Online Citizen, Channel NewsAsia, publichouse.sg, and  ieat.ishoot.ipost. International brand names like Reuters, BBC, and ESPN are also available.
If you're into technology, you can check out CNET Asia, Techgoondu, TechCrunch, and yes, SGE.
The current version of NewsLoop enables you to follow Hot Topics, read stories in carousel and magazine modes, create multiple profiles, share articles on Facebook, Twitter, or via email, and save an article for later viewing. The app even recommends content to you based on the keywords you 'like'.
While many e-readers already exist on the market, Cheong Hai Thoo, SingTel's Head of Multimedia, believes that NewsLoop differentiates itself from others "by being the first to cater specifically to the needs and interests of local readers" and providing "local media and bloggers with a powerful new platform to reach a wider audience and earn additional revenue for their content."
I wonder though if there is enough demand in Singapore for a localized Flipboard-like app, since many locals would by now be using their favorite mobile news reader which they have already customized to suit their own preferences. NewsLoop might need further differentiation, feature-wise, to attract large chunks of the iPad population.
Also, whether NewsLoop can get substantial income for publishers through ad revenue sharing remains to be seen. While publishers don't have to pay to display their content in the app, it actually sucks readers away from their websites since articles are rendered in NewsLoop's format.
If SingTel wants to keep content providers on the app, it will have to generate enough revenue to offset the potential loss in advertising returns on the publishers' main websites. Even Flipboard, with its massive user base, have seen major publications pull out from its platform.
Looking at the current version of the app, I find that the user interface could use some fine-tuning. The cover page displays the various news categories that I have selected, but pressing on them brings me to the article that was displayed and not the category page, which is rather confusing.
NewsLoop is not the first in-house digital service that SingTel has developed for the masses. It has created AMPed, a music download service; skoob, an ebook reader; the deF!ND digital concierge; and mio TV, an internet television service.
These endeavors are part of SingTel's efforts to diversify from the traditional telco business, which is under assault from smart mobile devices.