Update: Added more details on Lyke gleaned from interviews with SingTel executives.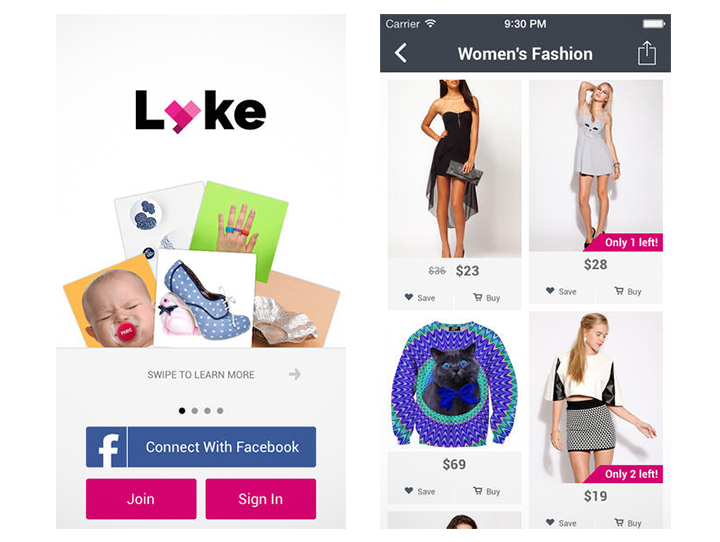 Just days before Singapore-based mobile marketplace startup Carousell announced its $800,000 seed round, another shopping app made its quiet debut on Apple's App Store and Google Play.
Published by SingTel Digital Media (SDM), a subsidiary of the country's largest telco SingTel, Lyke is a sleek mobile app that lets users shop for a variety of items like men and women's apparel, watches, and accessories for gadgets.
However, Tech in Asia received word that Lyke is in fact a white-label version of Wish, an app developed by a Silicon Valley startup consisting of ex-engineers from Google, Facebook, and Yahoo. Indeed, both apps share striking similarities, including the flow of the user interface, the design elements, the icons, and even the inventory.
Cheng Chuan Loo, head of SingTel's Group Digital Life, who oversees SDM, confirms that the telco has indeed struck a partnership with the Silicon Valley company. Loo, however, is unable to provide information about the financial details of the deal.
Lyke's arrival brings to mind Carousell, another Singapore app that is backed by Japanese e-commerce giant Rakuten. Nonetheless, Loo points out that Carousell and Lyke are vastly different. Carousell is primarily a C2C proposition, while Lyke is all about curating products from merchants and pushing it out to the masses.
Also, while the former requires buyer and seller to negotiate price and meet up at a physical location to complete the transaction, Lyke allows users to actually pay for the item via PayPal or credit card. Once the transaction is finished, the app sends an email to the user with a receipt that also indicates the time of arrival. This could be a huge difference maker, and it remains to be seen if Carousell will implement a similar feature.
Personalization and virality are a big part of Lyke's offerings. The app invites users to connect via Facebook, which provides data on their gender, age, and interests. Users are then asked to pick products they like, or share items on Facebook in exchange for discounts. All these are signals that help the app decide what products to show the user.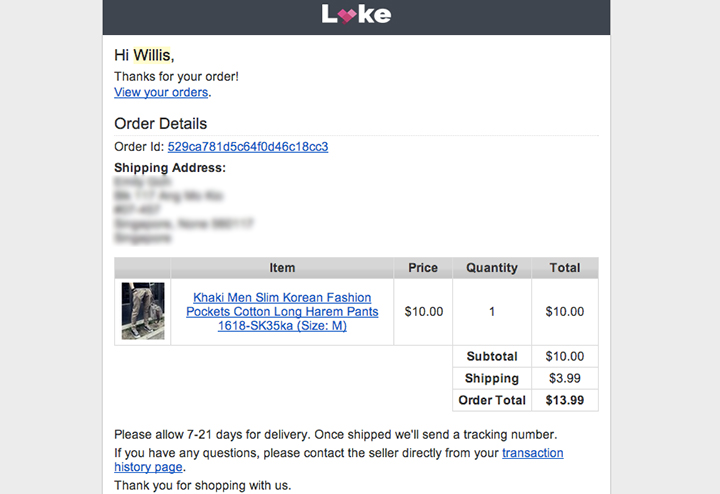 Yu Hsiang Wong, the CEO of Lyke who was formerly the COO of SDM, says that SingTel's newest baby is not being promoted yet. The company plans to tweak the app, gather feedback from users, and refine its product curation further before starting a marketing push that is expected to involve inSing.com, SingTel's lifestyle portal, as well as the usual telco tactics like pre-loading the app onto phones. It's also working with Shopify, which struck a distribution deal with SingTel this year, on getting relevant merchants that are using the shop builder onto Lyke. Wong says:
We want to pull in sellers that are design- and emotional-focused into the Lyke store.
This puts Lyke in the same category as American online marketplaces like Fab, which SingTel invested in, as well as HipVan, a local startup that also sells "design-centric" stuff. While these are web stores, SingTel's decision to go mobile-first squares with the telco's strength in the space and the increasingly mobile-oriented lifestyle of Singaporeans.
It's hard to put a finger on what design-centric really means, but Loo adds that they'd know if a product fits the criteria by seeing it.
"It's both an art and a science. Getting good merchandisers is important because they can find the really quirky stuff. The science comes in later with analytics and we'll be able to spot what people like and what they don't," he says.
Wong currently has ten members on his team, including merchandisers that source for local products, and they're planning to move into a new office separate from the rest of the SingTel Group.
2013 has been eventful for mobile commerce in Singapore. Within the fashion space, Rocket Internet's Zalora is also in the race for the wallets of Singapore's mobile-savvy consumers with its own shopping app. Other players like eBay and Qoo10 also have their own offerings as well.
Lyke is available in Singapore on iOS and Android.
(Editing by Willis Wee)