Update (March 7): The article previously stated that SingPost's annual profit was US$29.4 million. That is incorrect. It is US$111 million.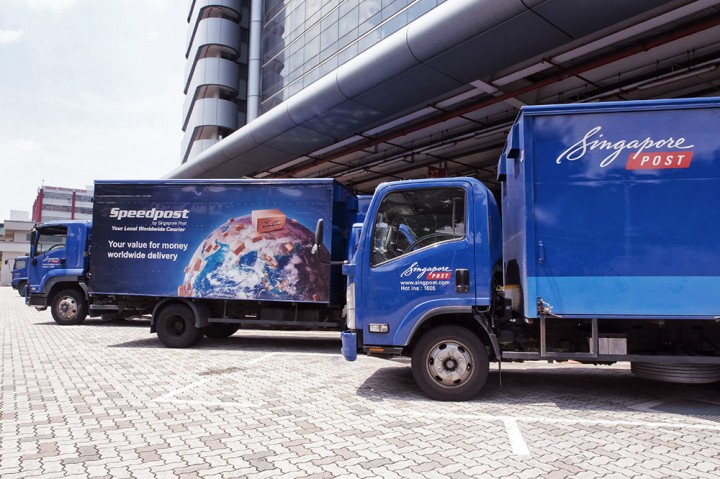 As snail mail fades in relevance, the US Postal Service is sinking along with it. But SingPost (SPOS.SI), the Singapore equivalent which is privately-run rather than government-driven, has avoided the same fate.
Despite suffering two consecutive years of decline in mail volume, SingPost's bottom line has received a boost from its logistics, retail, and ecommerce operations. Its revenue now stands at S$628 million (US$494 million) in the three quarters of the latest financial year, up from S$476 million (US$374 million) in the previous period. Ecommerce, which includes its shipping and services for retailers, now makes up 28 percent of total revenue.
The venerable company's transition from traditional postage into modern ecommerce has been stunning. Founded in 1819 – the same year Singapore was founded as a British colony – SingPost's transformation only took root in 2003.
In that year, it launched vPost, a delivery service that enables Singaporeans to shop from US websites using a virtual address. Then in 2011, it unveiled luxury brand store Clout Shoppe, its first foray into direct online selling. But SingPost only truly emerged out of its cocoon in 2013 when it unwrapped its vision of how it will play a role in Asia's fast-rising e-commerce landscape.
SingPost as a startup
There is no signage pointing the way to SingPost's ecommerce division, a 70-person outfit tucked away in a newly constructed office building just a block down from SingPost's Singapore headquarters.
A construction site sits next door, ostensibly for another office building, just one of many that are popping up around the area. A pounding machine reminds the team that everything is still a work in progress.
"We have a BBQ pit and a ping pong table," says Marcelo Wesseler, the senior vice-president of ecommerce at SingPost. "We're trying to recreate a startup atmosphere so as to attract the young engineers and technology guys."
SingPost's ecommerce plans have been solidifying in the past year. The centerpiece of its major push is SP eCommerce, a comprehensive ecommerce product that launched in April 2013 and now has over 200 paying clients including big brands like Adidas, Groupon, and Quiksilver. These are brands that want to sell online in South Asia and Australia but lack the knowhow to do so.
Rocket Internet's Zalora is a customer too, but in this case, it's about melding its e-commerce expertise with an existing logistics network.
Essentially, what SP eCommerce does is provide everything a retailer could ever need to start selling online. Think of it as ecommerce consultancy that trims the bullshit and does the actual heavy-lifting, going heavy on analytics and technology.
The service amalgamates three components – web store fronts based on Hybris and Magento, an order management system called Supplizer, and a warehouse management and shipping system – all built on top of its logistics and warehousing network.
"It's about helping clients find the most ideal way to ship from point A to B," says Wesseler.
The integration means that retailers could, for example, prevent consumers from ordering items when they're out of stock. The system could tell customers that a product – say a particular shirt – is running out and exactly how many of it is available in the warehouse.
SingPost offers complementary services to assist in digital marketing and performance tracking: there's ExactTarget, Google Analytics, and Coremetrics for analytics, SAS for business intelligence, and Gigya for social media management.
Finally, SingPost owns Omigo, an online marketplace which is essentially a 'lite' version of its offerings for brands who are not ready to commit to 'monobrand' stores.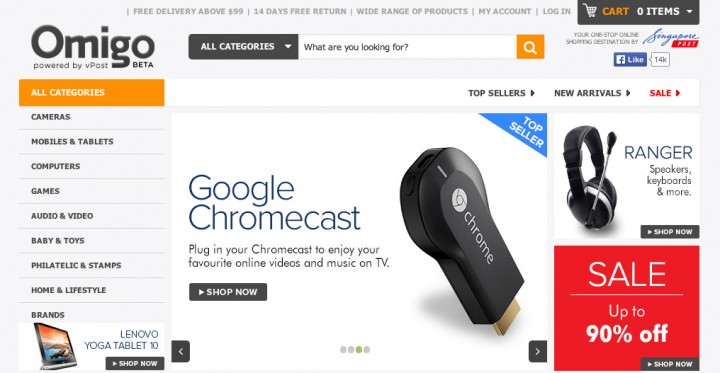 Startups are scrambling to fix ecommerce
Despite the obscene amounts of money being pumped into e-commerce in Southeast Asia, the industry is still light years behind the United States. According to Wesseler, conversion rates from visitor to customer for online retail sites in the region is significantly lower, at less than one percent in Southeast Asia compared to nine percent in the US.
There's no easy way around it, but one fix is improving the underlying infrastructure to make ecommerce affordable and profitable.
Multiple efforts are under way to do so, and these startups are offering something similar to SingPost: modular ecommerce services that can be customized to suit a client's needs, priced either on a revenue share model or a monthly service fee. There's Anchanto, a Singapore outfit that is offering logistics, fulfillment and web storefronts to customers like Robinsons and Wine Connection.
ACommerce is doing the same in Thailand, and it is already working with over a hundred brands, including cosmetics companies like Maybelline, Khiehl's, and L'Oreal. Launched in the middle of 2013, the startup has already expanded to four warehouses in the region (versus SingPost's twelve) and secured US$3.1 million in funding from a couple of Japanese venture capital firms.
The startup is currently working on a widget that can be installed on web publications to instantly turn them into online stores. A mobile gadget review site could, for instance, sell mobile phones, accessories, and other related items through this widget, and then collect referral fees from the sales.
ACommerce is headed by Paul Srivorakul, a Thai serial entrepreneur who has started and sold three startups (one ecommerce and two marketing related) and has seen first-hand the shortcomings of Southeast Asia's ecommerce industry.
"While it's easy for brands to go online and buy ad space, the bottlenecks are in logistics and fulfillment. We want to jump in there to solve their last mile fulfillment problems," says Srivorakul.
SingPost's secret weapon
While there's probably room for more than one ecommerce enabler to thrive in the region, SingPost isn't a national institution for nothing. With an annual profit of S$141 (US$111 million), the publicly-listed company has room to acquire assets or sell them quickly given the startup-like environment of its ecommerce division.
It bought Sample Store for around US$1.2 million (subject to hitting post-acquisition targets), adding another marketing channel for clients, and acquired the intellectual property for Supplizer from a US startup.
It recently sold Clout Shoppe, its own luxury goods online store, because selling direct to consumers undermines its mission of becoming a pure ecommerce enabler.
SingPost's logistics network is something to be reckoned with. It owns 12 warehouses spread out across South Asia, Australia, and as far as the US and UK. It recently launched POPStation, which places lockers all over Singapore for consumers to pick up items they've purchased online.
"SingPost is in a lucky situation. We already own the most capital intensive part of our operations. We already have good partnerships with local networks," says Wesseler.
(Editing by Steven Millward)