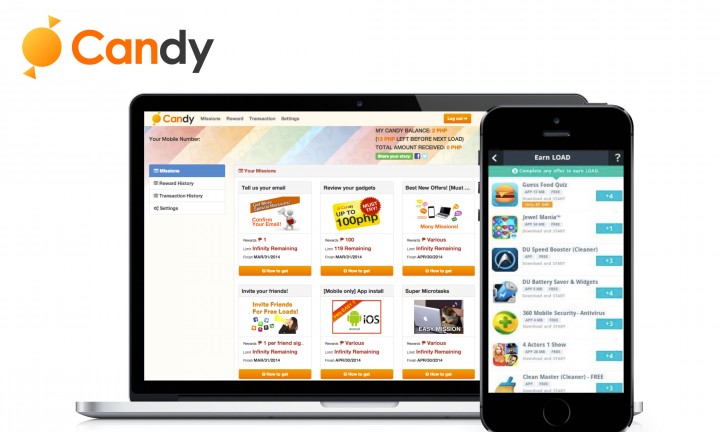 Singapore-based YOYO Holdings has secured approximately US$1.3 million in funding from Gree Ventures, Cyberagent Ventures, and Incubate Fund. The company operates a reward platform called Candy that has been gaining popularity among prepaid mobile phone users in Southeast Asia.
By completing "missions," Candy users are rewarded with prepaid phone credits that can be used for making calls or using mobile internet. Missions include filling out surveys, visiting brick-and-mortar stores, and viewing advertisements. In turn, Candy's corporate partners gain valuable insight into their corresponding markets.
"Whenever our users complete a [mission], revenue is generated for us, and we pass a portion of it to the user," Yosuke Fukuda, CEO of YOYO Holdings, told Tech in Asia. "However, we cannot stop at this. We will be looking to add further revenue streams to our existing ones."
Candy already boasts 250,000 combined users in the Philippines, Indonesia, and Thailand. According to Fukuda, the region is tailored to Candy's reward platform because so many users rely on prepaid plans:
Southeast Asia is a fast growing mobile market where the majority of the users are on prepaid plans. Additionally, smartphone penetration is increasing rapidly in these markets and we intend to build our business around this very critical shift. The smartphone market is booming in developing nations and we plan to expand to such markets in which prepaid phones dominate – which is actually most of them.
(See: ZAPtag Promises Discounts and Rewards for Philippine Shoppers, No Smartphone Needed)
The latest round of funding will be used to strengthen development and marketing resources, Fukuda says. He also hopes to invest in new business development strategies that will help Candy quickly become the number one reward platform in SEA.
"Our short term goals are to establish our current business lines and maximize our revenue from them, while ensuring that our back-end operations are optimized," Fukuda adds. "Our long-term goals will be to create new offerings that will be of further value to our clients and expand to other viable markets with this portfolio of offerings."