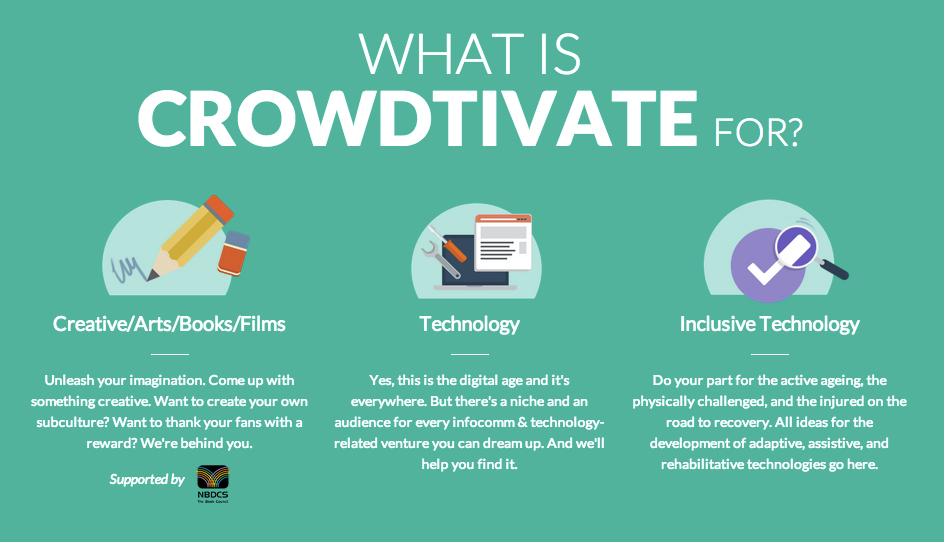 Crowdfunding is kind of hot right now in Asia, not in actual money pledged by consumers or the size of campaigns, but in terms of the number of companies riding the wave in the name of innovation.
StarHub, Singapore's second largest telco, has put its weight behind the movement. It announced Crowdtivate, which it calls the world's first telco-backed crowdfunding platform.
Pak Lum Mock, CTO of StarHub, unveiled the site at the Crowdsourcing Week Global conference in Singapore. In his presentation, Mock gave a brutal assessment about how telcos are minnows compared to the giants of Silicon Valley.
As telcos we are dinosaurs… we don't have the deep pockets like Facebook to throw billions of dollars at Whatsapp. If we have a platform to encourage people to put their ideas on, and if enough people vote for the idea, then the idea can probably be [profitable] for us.
In other words, while Crowdtivate shares some elements with popular platforms like Kickstarter and Indiegogo, where early adoptors are encouraged to give to campaigns for zero equity but early access to the product and some extra shwag, it serves a different fundamental purpose.
It's essentially StarHub's eyes and ears to interesting projects in the wild. Ideas are validated through crowdfunding and served up to StarHub's innovation division, or I3, for the possibility of a deeper relationship.
Don't call Crowdtivate a stunt yet
It's tempting to label Crowdtivate, which is still in private beta, a gimmick. But the idea carries some water.
Kickstarter and Indiegogo have a fundamental problem: aside from being avenues to get a cash bonanza, they don't help startups in any other ways – not in assisting them in overcoming the nightmare of negotiating with crafty manufacturers in Shenzhen, nor in optimizing supply chains and managing cashflow.
That is why a new generation of crowdfunding sites have come up with different takes on the concept: FundedByMe, which expanded to Asia recently, gives backers an opportunity to own a piece of the company. It's essentially crowdsourcing expertise: backers are more likely to lend a hand to their investments since there's a chance of cashing out if the startup does well.
Crowdtivate too is premised on giving projects more than money, except this time, the expertise and resources are insourced from a corporate giant. The site offers mentorship on how to create great campaigns, and the top three monthly projects will get, according to a press release, "access to test users, marketing support, startup funding, free software development, invention development, and infrastructure support."
StarHub's site offers a more curated experience than Kickstarter or Indiegogo: projects are manually vetted by the telco before they are allowed to appear on the site.
The platform is StarHub's latest move to transform from a dumb pipe into an all-rounded technology company. Like its rival SingTel, it has started investing in startups, launching a whole suite of internet services, and partnering with popular apps like Evernote to ride on their traction.
It even organized a hackathon where developers made use of its API to create apps that tap on StarHub's telephone network.
(See: Evernote partners StarHub, gives free premium accounts to post-paid customers)
More corporate-backed crowdfunding sites on the way?
Corporations around the world are jumping onto the innovation bandwagon, launching incubators and venture funds of their own to bring promising ideas under their roofs. We could soon see corporatized crowdfunding sites emerge as part of an arms race to work with promising entrepreneurs.
Crowdonomic, the company that has white labeled its crowdsourcing platform to StarHub, is banking on that prediction. The Singapore-based startup is marketing branded crowdfunding sites to large companies as a means to test market demand, source for ideas, and build buzz for new initiatives.
Having StarHub as a user is a boost for Crowdnomic, and it will serve as a useful test case to see if corporate-backed crowdfunding sites live up to the promise.
StarHub's massive resources certainly gives Crowdtivate a decent shot – but it ultimately boils down to providing good service. Entrepreneurs are the real customers here. The real test lies in whether the telco, a "dinosaur" in the words of its CTO, can really add value to startups instead of becoming a hindrance. Mock says:
The success of StarHub is in how well we partner you. We know that if we try to buy you and integrate the smaller company into StarHub, it's likely the entrepreneur will run away and kill the idea. It's about having a partnership; we don't want to own a lot of your company.