Burpple makes a big move to the web with its Social Food Guide, which launches in Singapore on 15 July followed by Indonesia, Philippines, and Malaysia in Q3 2013. It is taking on HungryGoWhere and Yelp with a new perspective on the food directory.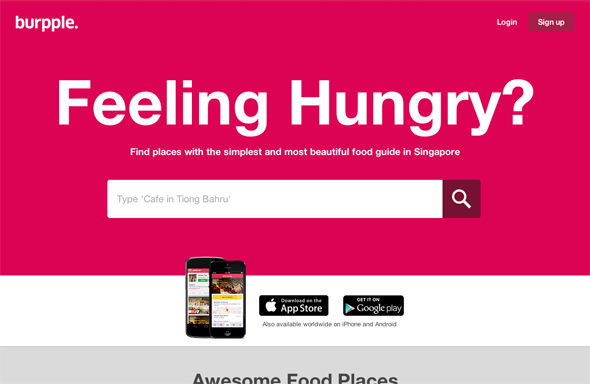 If you're young and hip, the place to be in Singapore these days is Chye Seng Huat Hardware, a hidden cafe bar that retains the name of the building's former tenant.
Filled to the brim on weekends with tattoed hipsters wearing oversized, dark-rimmed glasses, the coffee house seems like a natural location for young startup Burpple's coming-out party.
Emerging out of its cocoon from being just another 'Instagram-for-X' startup, Burpple has laid bare its intentions to be much, much more. But not before first treating the crowd — an eclectic mix of food bloggers, restaurateurs, geeks, and one government minister — to a buffet spread consisting of some local favorites.
In essence, Burpple is moving into Asia's hyper-competitive food discovery space, which is dominated by somewhat dated, pre-Web 2.0 web directories like SingTel-owned HungryGoWhere and Yelp (active in Singapore), as well as a smattering of localized services throughout the region.
Indonesia has Infojajan and will soon welcome Zomato to the mix, Malaysia has OpenRice, while the Philippines has looloo, a mobile app that shares some similar social features with Burpple but cuts across many verticals.
While new to the game, Burpple is bringing a different perspective to the familiar, old food directory.
First, it is mobile-centric. While Yelp and HungryGoWhere are web entities that are still trying to master the mobile experience, Burpple got it right early on.
Its key product is a mobile food diary built around an action every smartphone user knows: Snapping pictures. It's a more natural behavior compared to say, clumsily writing a food review on a minuscule keyboard, and this encourages engagement among users.
To date, the app has logged 700,000 food experiences in 140 countries, up from 300,000 in January. That's roughly 80,000 snaps a month, which seems to be a plateau considering the fact that it was registering around that level of engagement since the beginning of the year.
But this shouldn't be too alarming as the app caters to a niche and highly opinionated group of users.
Second, Burpple is about community. It is really easy to share food photos with fellow users and cross-post the entries on social networks like Facebook and Twitter. It is also integrated with Instagram, another popular tool for foodies.
Besides taking advantage of viral mechanisms, the company acts as a social lubricant by building a tight-knit offline community with food lovers across the spectrum, from tastemakers to food bloggers to bosses in the F&B industry.
The ease of snapping food photos, combined with the ability to quickly share and receive recommendations, has effectively made Burpple  an efficient data-collection machine. Arguably, it is able to collect human-centric information about food places much more easily than the incumbents.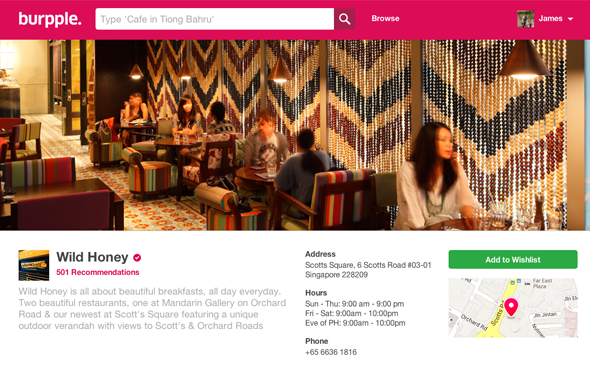 Mix these mechanisms with a clean and minimalistic design aesthetic, and you have the recipe for Burpple's Social Food Guide, set to launch in Singapore on 15 July with Indonesia, Malaysia and Philippines to follow in Q3 this year.
The Social Food Guide is a culmination of several experiments by the company since receiving USD 500k in funding from investors in December 2012.
It actually launched find.burpple.com earlier in the year, which is its first, somewhat unpolished stab at a food guide. The startup then followed that up with Pages, a webpage builder for restaurants, bars, and food establishments.
Burpple's new product combines both experiments into a cohesive whole. Searching for 'breakfast in Orchard', for instance, could bring you to the Wild Honey restaurant page, complete with a beautiful location picture, basic information about the establishment, and a social menu complete with the number of recommendations each item has received and what the community is saying about them.
120 merchants have come on board for this first release, with around 20 percent of them paying the startup for the ability to customize their pages. The company has declined to reveal its pricing model.
With the gauntlet thrown down by founder and CEO Elisha Ong, the food community is eagerly waiting to see how HungryGoWhere and Yelp might respond.
They're certainly taking notes, with some HungryGoWhere staffers listening intently while Elisha proclaimed that Burpple has five times more visual reviews than the established food directory site despite its relative youth.
And speaking of youth, Burpple has recently taken on Alvin Wang, a web developer who sparked a fierce online debate by displaying his design skills through an online appeal to switch courses in a local university's computing school.
Elisha jokingly refers to Alvin as Burpple's "secret weapon".