Update: SPH's chief editor has responded to the petition. View update here.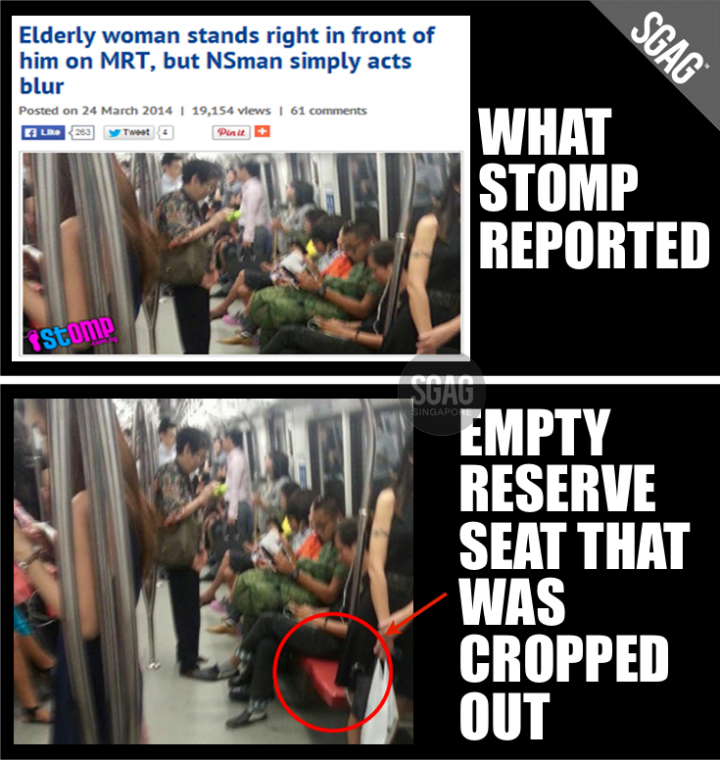 Singapore residents appear to have had enough of STOMP, a "citizen journalism" website run by Singapore's largest newspaper The Straits Times. A petition calling for its shutdown has recently been started and has since seen widespread support.
The petition was started on Sunday evening, April 6. As of April 25, the number has swelled to 23,200 supporters after the petition gaining momentum on social media channels and news outlets.
This discontent has been simmering over time – many netizens have voiced their outrage over the numerous gaffes and insensitive articles made by the site over the past years. The petition was started by a Singaporean retail executive who is attempting to unify opposing voices against STOMP.
The petition singles out two recent incidents to highlight their case against STOMP. The first case was with regards to their report of an NSman – an army conscript in local parlance – not giving up his seat to an elderly woman, which was revealed to be fabricated by a reader.
The second incident involves a photograph taken by Samantha Francis, who was a content producer at STOMP. The then 23-year-old had supposedly taken a picture of an MRT train moving with one set of its doors open, which was also found out to be false. The content producer was later fired.
The petition adds that STOMP users have been contributing fake stories to the detriment of other citizens, victimizing army conscripts, encouraging cyber-bullying, and invading the privacy of citizens.
The petitioner wrote: "STOMP refuses to acknowledge the false stories, and chooses to go ahead and publish for the sake of 'citizen journalism' … how does this educate generations after generations when there are much important news that netizens can find time to understand rather than spending hours on STOMP just reading and contributing fabricated stories?"
He further charged STOMP with the failure to rectify and set guidelines for netizens contributing stories, leading to fabricated content.
The Media Development Authority (MDA) of Singapore has since responded by saying that it does not influence the editorial slant of sites. Nonetheless, it would take action against Internet content providers that breach the Internet Code of Practice. Barred content includes those that goes against public interest, as well as those that promote racial and religious hatred. It added:
"As users of the Internet and as part of our efforts to promote responsible online behaviour, netizens can and should continue signaling to content providers the standards that we expect of them, so that they can in turn heed these calls. Should you believe that STOMP, together with other class-licensed and individually licensed sites merit stronger regulation, we invite you to propose how the standards should be tightened. Let's build a healthy online environment together."
MDA's attempt to solicit feedback from the public with regards to "how the standards should be tightened" has seen a largely negative and hostile response from netizens. You can view the statement and the resulting comments on MDA's Facebook page.
(See: Straits Times' parent company loses 25% in profits, launches $80m New Media Fund)
SPH responds
Singapore Press Holdings (SPH), the parent company behind Straits Times and STOMP, has been reticent about responding to the petition until recently. It declined an interview request by international news outlet by Al Jazeera, and did not respond to Tech in Asia's enquiries.
However, Felix Soh, editor of SPH's digital arm, told the Straits Times: "It is sad that those who clamour for the freedom of the internet are now asking for the closure of a website – just because they don't like it."
Asian marketing blog Mumbrella managed to secure an extensive interview with Patrick Daniel, editor-in-chief of SPH's English and Malay newspapers. Daniel admitted that SPH is undertaking a review of STOMP to see what changes can be made. He said:
"I can't say that it [the anti-STOMP campaign] doesn't have impact on us. We will have to review it. After all, we serve an audience."
"But having said that, I have to measure that [negative] sentiment against the fact that we have a solid following of people who can live with a bit of edginess. They're not troubled by it. But that's the internet for you."
Daniel added that as a "citizen journalism" site, STOMP would lose its distinct voice if it were to be too heavily moderated. Further, it's only meant to target a certain segment in Singapore.
"I'm not forcing everyone to read it. If you don't like it, go elsewhere. It's not as if STOMP is your only media diet. It's a website for people to engage with us, and that's what it is," he told Mumbrella.
This article was updated on April 14, with the latest number of supporters and MDA's response. Another update was made on April 25 to incorporate statements by SPH.