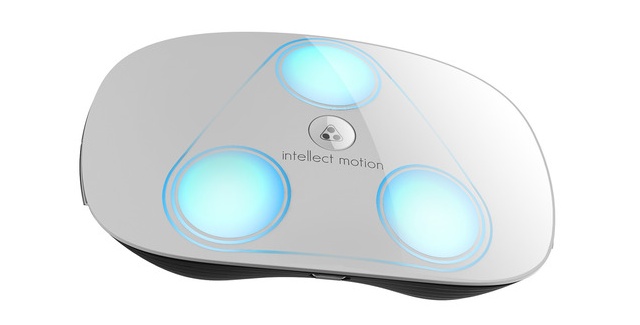 This article was originally posted on Games in Asia, our new sister site that's dedicated to bringing you all the best in Asia games and gaming. You should check it out.
Haptic feedback — vibrations, basically — has been a hot topic in gaming for years, but things really exploded last week when Valve unveiled the third of its Steam announcements, a new controller with touchpads featuring haptic feedback that Valve claims will make them as easy to use as joysticks. But Valve isn't the only company using haptics to make new controllers. Singapore startup Intellect Motion, which we wrote about back in July, has finally brought its motion-sensing game controller to the masses by launching a Kickstarter campaign.
The campaign, which was originally planned for August, seeks $100,000 to fund the final round of prototypes and begin producing the IMotion controller device. The controller is worn on the hand, and features three lights that allow any game system's camera to track it in three dimensions. The IMotion also features an accelerometer and a gyroscope to track your hand's rotation, and haptic feedback in the form of vibrations so it feels like you're actually touching things. It can be used with any software that can be controlled with a mouse and keyboard (as long as the computer also has a webcam), but it will also be shipping with an SDK, as its creators hope that developers will also create games and other software specifically designed for use with the device. If the Kickstarter video is any indication, it can also be used together with the Oculus Rift to create an extremely realistic motion-based gaming experience:
If you want to pick up an IMotion, you can get one right now for $59 via the Kickstarter, but that reward is limited, so act fast if you want to save a few bucks. Otherwise, it looks like the device will be available to all for $69, plus a $15 shipping charge for any orders outside of the United States. Of course, you'll only get an IMotion if the project gets fully funded. But given that it's raised more than $30,000 in just a few days, it seems like a pretty safe bet that this Kickstarter project can go the distance.