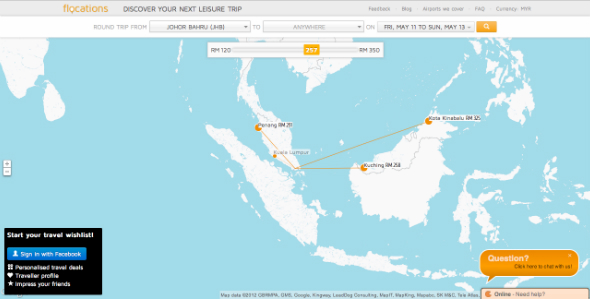 Flocations, a travel discovery site aimed at short haul weekend travelers, has raised a SGD 0.7M (USD 0.57M) seed round led by TNF Ventures and joined by SingTel Innov8 and Singapore-based angel investor Ben Ball.
The Singapore-based company offers a different take on travel discovery. Instead of search by destination, Flocations lets users search by price — perfect for travelers who are on a budget and don't know where they want to go.
The cash will allow Flocations to launch a new set of features, including the ability to combine hotel and flight prices into one. This enables users who search by price to receive not only air ticket details but also lodging recommendations — all kept within the selected budget.
Flocations was one of 11 startups at the first JFDI.Asia Bootcamp held this year. It had received a post-Bootcamp investment offer from SingTel Innov8, the title sponsor of the accelerator program's pilot round.
The startup launched their prototype in August 2011, then incorporated as a company in February 2012. It has four co-founders: Tudor Coman, Florian Cornu, Shaw Chian, and Venkatraman Dhamodaran (see Angelist).
While SingTel Innov8 has been around as a source of startup funding for a while now, TNF Ventures is relatively new. It was accepted into the NRF-TIS government co-funding program earlier this year and recently announced a USD498k investment in Singapore startup Tradehero, a stock trading app.
Check all our past stories about Flocations here.