Jason is currently the president of Young Entrepreneurs Association of NUS (YEAN), and does business development at LetYo.com. He also sits on the Steering Committee of ACE Beijing Chapter, as the chairman of the Research Committee.
---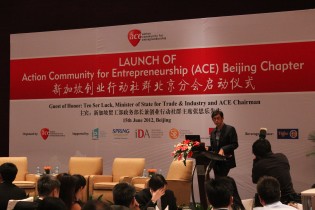 The Action Community for Entrepreneurship (ACE) is shifting the Singaporean entrepreneurial community into full gear. Having announced the provision of S$25 million (US$19.7 million) startup seed funding earlier this year, it continued its momentum by launching its first overseas chapter in Beijing recently. This movement is led by the ACE Overseas Chapter sub-committee, which aims to build networks to help Singaporen startups venture into overseas markets.
ACE chairman, Singapore minister of state Teo Ser Luck, was in Beijing for the official launch. Speaking to a crowd of about 180 Singaporean entrepreneurs, professionals, and local entrepreneurs, Mr Teo said that the ACE Beijing Chapter will facilitate Singapore entrepreneurs' access to resources, mentors and investors, as well as provide networking opportunities with the vibrant community.
James Tan, chairman of the ACE Overseas Chapter, rationalized the choice of Beijing as the first overseas chapter:
Beijing is the key city for many sectors such as technology, media and telecommunications, and it is a natural magnet for entrepreneurs. ACE Beijing provides a 'by Singaporeans, for Singaporeans' approach where mentors and entrepreneurs can sharpen their ideas, improving their chances of success.
The ACE Beijing Chapter functions via five main committees: communications, funding, mentoring, networking, and research, with 33 committee members running them. A strong support system has been established; not only will the committee help startups in obtaining funding and office space, but mentorship and networking sessions will also be arranged on a regular basis.
As a Singaporean, I think that the launch couldn't have been more timely. This is by far the most influential outreach by ACE, for startups to venture overseas. Back in Singapore, much has been said about the explosive growth and countless business opportunities in China. We have also heard a lot about how, as Singaporeans, we can leverage on our skills, especially bilingualism, to venture into the Chinese market. But how many startups have actually done that? I'm pretty sure many of the startups gave due consideration to the Chinese market, but withdrew due to uncertainties and lack of information. As such, the ACE Beijing Chapter will be here to minimize such problems.
James envisioned the ACE Overseas Chapter to set up chapters in more cities around the world, replicating the Beijing model, with plans of launching a second overseas chapter next year. Here's calling out to all aspiring Singaporean entrepreneurs who are interested in venturing into China, please contact the committee here today!