Good news for Singaporean travelers – TourPackages.com.sg, is a one-stop travel portal which helps Singaporeans with travel research, holiday ideas and savings. The portal includes a searchable database of tour packages and itineraries, daily alerts of great travel deals as well as in-depth coverage of all travel fairs in Singapore.
In Singapore, travel fairs are organised quarterly at exhibition centres where tour agencies rent exhibition booths for visibility, and compete intensely with one another by distributing many flyers and brochures to attract visitors to their booths. That surfaced a problem which TourPackages.com.sg aims to solve.
"At such travel fairs, we have observed that after collecting collaterals distributed by many competitive tour agencies, consumers often stand around to compare deals and itineraries from the collected before making up their decisions – why not save up on the resources and instead leverage on the same information that we have collected in Singapore? We believe that planning for a holiday is part of the "holidaying" experience and should therefore be easy and fun," said Ethel Lee, project manager at TourPackages.com.sg.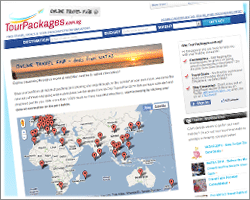 "An online travel fair is created to solve this problem by making it convenient for Internet-savvy Singaporeans to compare travel deals with the click of a mouse. No longer should travelers have to squeeze through stressful crowds in exhibition centres like the NATAS Travel 2011 happening this weekend at the Singapore Expo, they can also enjoy the convenience of browsing the consolidated travel deals all in one site, from the comfort of their own space. To put it simply, we do all the work so that users don't have to," she added.
TourPackages.com.sg provides a win-win situation for both consumers and tour agencies. While consumers enjoy the one-stop travel portal for research, smaller tour agencies reduce advertising costs by leveraging TourPackages.com.sg as a medium to increasing online visibility.
As access to digital technologies is becoming more ubiquitous, people are switching from getting packages information from offline media to online media – this is one aspect Singapore's travel industry is changing and catching up on. Stay tuned as we observe how this influence will continue to grow.
TourPackages.com.sg is curated by Travelogy.com Pte Ltd, a Singapore-based start-up that provides infocomm and digital media solutions to the travel and hospitality industry.