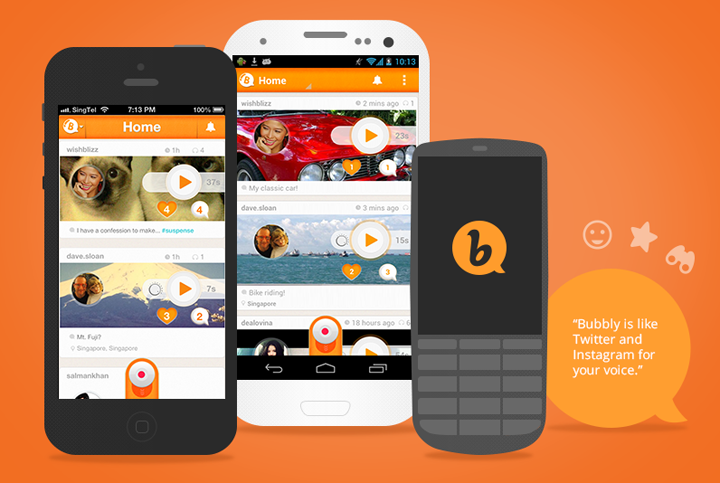 Bubbly, a Singapore-based social network which received US$39 million from prominent venture capital firms Sequoia Capital, Singtel Innov8, JAFCO Asia, and others, is liquidating after a few acquisition deals failed to work out, sources told Tech in Asia.
Bubbly had undergone due diligence several times over the past nine months in anticipation of acquisitions. Twice, the deal fell through with Chinese-listed companies due to issues on their end that caused their stock prices to crash.
The company had three more offers and accepted the highest one by another venture capital-backed company. The due diligence process dragged on for two months. But as the merger was about to take place after Bubbly laid off its management team and restructured the company in order to close the deal, the acquirer tried to lower Bubbly's price by 90 percent because it assumed the startup's investors no longer had any more options.
"[Bubbly's] investors decided they would rather liquidate the company and take the remaining cash out of the business than to own stock in an unethical company that would do something like this. Thus, Bubbly is currently in the process of liquidating. CEO Thomas Clayton has moved on and is actively helping his staff to move on too," says a person with knowledge of the situation.
The company had raised five rounds of venture capital funding since 2006. Their last fundraise, in 2012, was for US$5 million and involved JAFCO Asia, Innov8, and Sequoia. Bubbly is essentially a Twitter for voice, where instead of reading tweets, users listen to sound recordings.
Sequoia is one of the most prominent venture capital firms in the world, while Innov8 is the investment arm of SingTel, Singapore's largest telco. JAFCO Asia has been established in the region since 1990.