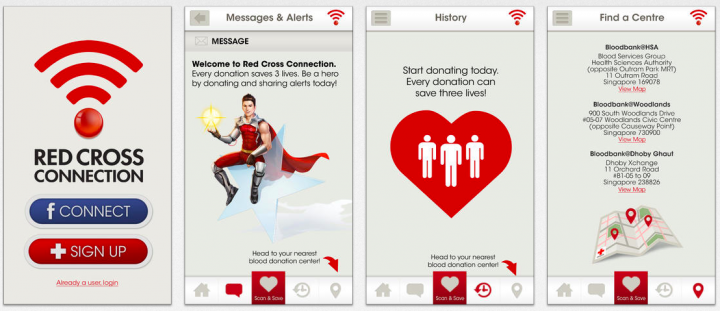 Blood donation shortages have been a problem everywhere for years. To raise awareness, typical methods include driving blood donation trucks around the city, pop-up donation stations at offices, sharing emergency notices via social media, and more.
But this is 2014, which means there has to be more innovative ways to drive blood donation awareness. Red Cross Connection, a mobile app by the Singapore Red Cross was created to do just that.
Quietly rolled out near the end of last year, Red Cross Connection crowdsources help from its users to drive blood donations in times of need. This is similar to the Indian Blood Donors app. Once installed, users create their profile and indicate their blood type. When blood supplies run low, users would receive Blood Alerts through the app – indicating the specific blood type needed, with a map function to find the nearest Red Cross center for them to make a donation.
Even if users cannot donate the blood themselves, they can still help by sharing the alert with their Facebook friends.
Rewarding blood donors
The theme of the campaign is Release the Hero Within You.
With that in mind, when a user donates blood, the app allows them to check in their donations by scanning a QR code on posters at the blood centers or mobile blood donation drives. Then, as a reward, an augmented reality video thanks the donator for their selfless and heroic acts.
In addition, the app also tracks the number of lives each user has helped save through blood donation, as well as the number of times users shared alerts with their friends. Red Cross Connection also has merchant and partner tie-ups. This means active members may be rewarded with special offers and discounts in their app inbox.
The Singapore Red Cross app might get adapted to other countries if it proves successful in Singapore.
The Red Cross Connection app is available on iOS and Android.
(Editing by Terence Lee)