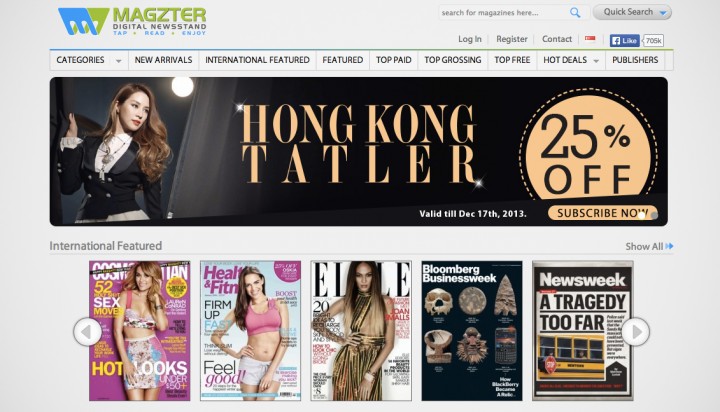 Singapore Press Holdings (SPH), Singapore's largest newspaper publisher, announced yesterday that it has led a $10 million series B round in Magzter, a New York-based global digital magazine store and newsstand.
Indian venture capital firm Kalaari Capital also participated in the round.
Magzter is a self-service digital magazine store containing 2,850 magazine titles from over 900 publishers including Conde Nast and Hearst. It has gotten over 16 million downloads, although it's unclear what its active usage figures are.
Besides New York, it also has offices in London, Chennai, and Singapore. Its service is available on iOS, Android, Windows 8, Amazon Web Store, Huawei Web Store, and the web. This means is that users can view their purchases on most smartphones and laptops.
What is notable about this investment is SPH's decision to pick a New York startup over Thailand's Ookbee and Indonesia's Scoop, which also offer digital newsstands.
Further, like Magzter, both companies already carry SPH titles on their apps.
SPH did not explain why it went with the New York startup, although its wider geographical reach and clout among big-time publishers could be reasons. Scoop has around 650,000 downloads in April, while Ookbee has surpassed three million downloads.
For SPH, this is a start of its attempt to modernize its offerings by investing in new media technologies.
Along with declining revenues as a result of changing reader habits, it recently announced an $80 million fund to back media-related businesses.
In the event things really go south, it still has a $1.7 billion war chest to help it tide through tough times.
(Editing by Paul Bischoff)
Disclosure: Apps Foundry, the creator of Scoop, is an East Ventures portfolio company. East Ventures also invested in Tech in Asia. See our ethics page for more information.