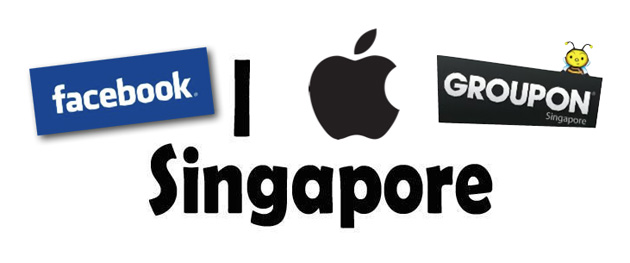 Where do Singaporeans go on the web? For social networking it is Facebook. For gadgets, Apple. And for deals, it's Groupon.
Experian Hitwise has released a list of very interesting (and detailed) findings about Singapore's web behavior ranging from online shopping, news, to lifestyle. The sites Singaporeans frequent are mainly American. There were handful of local sites that were featured in the findings, such as Hardware zone (forum), Love Bonito (blogshop), and Deal.com.sg (group-buy). The rest are mostly U.S-based websites.
One interesting finding is that Google+ is actually a more popular service than Twitter in Singapore. 16 percent of Singapore's "social media traffic" belongs to Google+, which was up from 1.2 percent in August 2011.
For more, you can find Experian Hitwise's full findings below:
---
Social Networking
---
Singaporeans are notoriously frequent users of social media sites, emerging as the top Facebook users in the world in terms of time spent per session according to an Experian Hitwise report last year. In 2011, Singaporeans spent time on various social media platforms to connect with friends and keep updated on topical news such as the Singapore General Elections and SMRT crisis. Facebook continues to be popular in social networking with website traffic of almost 32 percent. YouTube peaked at second place with almost 21 percent share of visits followed by the increasing popularity of Google+ at almost 16 percent, up from 1.2 percent in August 2011, a month after its beta site was launched.
Microblogging and community forums such as Twitter and Singapore HardwareZone Community are also gaining ground in the category with a combined website traffic of 6.67 percent.
Singaporeans have increasingly taken an interest in photography, either as leisure or professional users. It is no surprise that Instagram, a photo sharing application (available on Apple's App Store) is also listed as one of the most popular social networking apps that Singaporeans use.
---
Lifestyle and Fashion
---
Even though Singapore is a world-class shopping haven, many still love the thrills of online shopping. In Singapore, UK fashion brand ASOS has surfaced as the top website with a 13.22 percent share of visits in the fashion and lifestyle category, outplaying Forever 21 (4.03 percent) which has a store in Singapore. Consumers turned to technology to scour for fashion instead of going to the malls.
ASOS was also the top search term driving traffic to these websites, followed by mid-range brands including H&M, Forever 21 and Uniqlo alongside luxury brands like Kate Spade, Louis Vuitton, Longchamp, Prada and Gucci (in 12 rolling weeks ending 31st December 2011).
Singaporeans have been increasingly keen on news and updates in lifestyle as they flock to LookBook.nu to read the fashion diaries of people around the world, as well as HypeBeast, an online magazine that covers not only fashion, but also arts, design, and culture. These websites came third and fourth respectively in the category.
In the apparel and accessories category, Singaporeans are interested in luxury. BaoTime, a Chinese website featuring a variety of topics on luxury brands (7.05 percent) topped the list at number one. Reebonz (2.82 percent), an online site that sells off-season luxury items at a discount climbed to fourth place.
Many locally grown blogshops have also sprung up over recent years. Love Bonito, which claims the title of most popular Singapore blogshop, has a visit share of 2.89 percent in the category.
---
Shopping and Classifieds
---
Known to be fond of discounts, Singaporeans are embracing the new group coupon-buying craze. Groupon Singapore and Deal.com.sg are the top two deals aggregators, accounting for 35.25 percent of website traffic of sub-category rewards and directories.
Singaporeans use the search terms groupon, groupon singapore and deal.com.sg the most to look for good local deals.
---
Computers & Electronics
---
With a number of new devices launched in 2011, Singaporeans have flocked online to search for information, news and reviews about these gadgets. Most of them preferred reading about Apple products with 13.24 percent share of visits for the Apple website. This is closely followed by Lenovo at almost 11 percent in the computers category.
In the Electronics category Apple remains the top website Singaporeans go to with 18 percent share of visits. Despite its 9.34 percent decrease in share of visits from 2010, the local Apple Singapore is gaining ground at 8.04 percent of website traffic from 0 percent in 2010. Other top websites in this category include Gizmodo, Sony Singapore and Samsung Singapore.
Top five search terms driving traffic to these websites include apple, samsung, apple singapore, samsung, singapore, and canon.
---
Entertainment
---
Singaporeans keep themselves updated on local, world, and sports news with Channel NewsAsia, ESPN, and Bloomberg.com. These take the top three spots in the entertainment category for television accounting for a total of 50.24 percent share of visits.
YouTube, on the other hand, is still leading the pack of multimedia channels with 61.69 percent website traffic —- almost 200 percent increase from 2010. YouTube is also the top search term used under multimedia category with a search click of 6.17 percent.
Singaporeans prove to be unwavering fans of K-pop as clearly shown by 65.49 percent combined share of visits on the following websites within the music band and artists category: Entertainment on XinMSN, AllKPOP.com, and Wonderful Generation, resonating the popularity of the Korean boy and girl bands' concerts held in Singapore last year.
Three Similar websites in the second and third spots on the list include Big Bang Updates and SONEms with a combined share of almost 12 percent. Singaporeans type soshified and sonems the most to search for updates and news on their favorite celebrities.