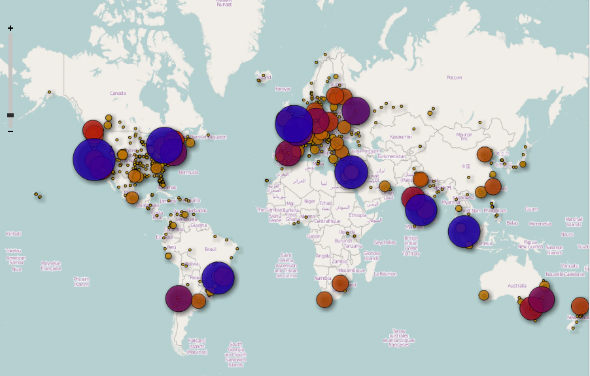 Singapore is the top Asian startup ecosystem and 7th overall in the world, a just-released global ranking of the world's top 25 ecosystems revealed.
The ranking is compiled by Startup Genome, a research project on tech entrepreneurship around the world.
Ranked according to "average throughput", the only other Asian cities in the list of the top 25 are Bangalore at 9th and Mumbai at 20th. Sydney and Melbourne come in at 21st and 22nd respectively.
The list is dominated by American and European cities, as expected. Silicon Valley claims the top spot, followed by New York City and London. Toronto and Tel Aviv round out the top five.
The methodology of how the list was compiled isn't made known, so until then, I'm inclined to take it with a light pinch of salt. Notably, Shanghai and Beijing are missing from the list, and I also wonder about cities in Japan and South Korea.
The inclusion of Singapore and Santiago in the list, and at such high positions, indicates that strong support and investments from the respective governments have a role to play.
Full list follows:
Silicon Valley (San Francisco, Palo Alto, San Jose, Oakland)
New York City (NYC, Brooklyn)
London
Toronto
Tel Aviv
Los Angeles
Singapore
Sao Paulo
Bangalore
Moscow
Paris
Santiago
Seattle
Madrid
Chicago
Vancouver
Berlin
Boston
Austin
Mumbai
Sydney
Melbourne
Warsaw
Washington D.C.
Montreal