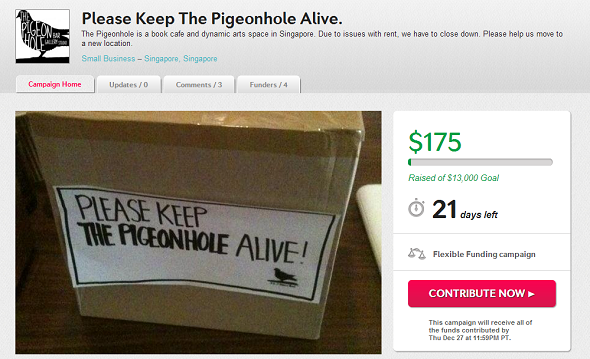 Forced to vacate due to rising rentals, The Pigeonhole, an indie cafe in Singapore's hip Duxton Road area, has taken to crowdfunding platform Indiegogo to raise money so that it can move to another location.
The company is seeking USD13,000 to pay for outstanding rentals, a two-month security deposit for a new and cheaper location, the first month of rental fees in the new premises, as well as renovations, repairs and painting work. The campaign will end on 27 December.
Over the past 20 months, the cafe has been supporting the arts and civil society in Singapore by hosting events, exhibitions, gigs, and talks. SGE even once held a dialogue with then Singapore Presidential candidate Tony Tan about entrepreneurship at the venue.
The Pigeonhole initially announced that it would shut down on 29 December 2012 on its Facebook Page. However, the cafe's friends and loyal customers decided to act, donating their own money in a bid to keep the establishment alive.
Prompted by the outpouring of support, the founders changed their mind about closing shop.
"We started this fundraising campaign because we – and many of our friends and customers – really don't want us to close down. We don't have the funds to carry on in a new location, but we really want to continue to support the arts and civil society in Singapore," the  Indiegogo page wrote.
This is perhaps the first time a Singapore cafe has taken to an online crowdfunding platform to raise money.
Developing story.