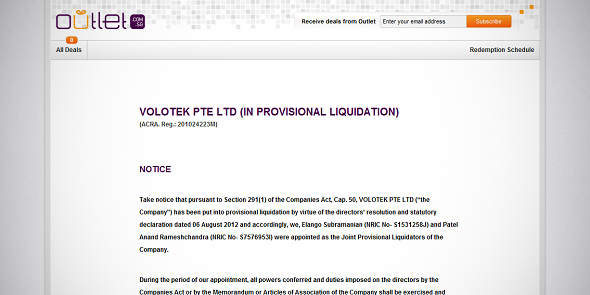 Once the hottest ticket in the startup scene, group buying has cooled. Following a wave of consolidations in the industry, less-able competitors are shutting down in droves, with Asia being the hardest hit.
Outlet.com.sg, which was the fifth largest daily deals site in Singapore, has also joined the list of has-beens. Volotek, the company behind the website, has put up a notice stating that the firm would be liquidated.
News of its demise was first reported on 10th August by The New Paper. Customers complained that the items they purchased remain uncollected, and attempts to contact the company were unsuccessful.
A man had reportedly purchased a resort stay coupon worth SGD588 (USD472), only to find out that the villa operator involved would not redeem it because Outlet.com.sg had not paid them for issuing the coupons. He has since filed police reports.
Aggrieved customers have banded together on a Facebook Page called 'Victims of Outlet.com.sg', which has attracted over 300 likes.
Outlet.com.sg is not the only daily deals site in Singapore to fold this year. In April, MediaCorp, the country's largest television broadcaster, had shut down Mocca Perks, its own attempt at a group buying site.
News of these closures could have an effect on consumer confidence. A premium will be placed on credibility, something which the strongest horses in the race possess in buckets. Smaller companies may find it harder to convince merchants and customers to transact on their sites, since the chances of them going under is higher.
But established players in Asia like Groupon and LivingSocial look like they'll be sticking around for awhile. Groupon Singapore, for instance, recently launched a retail store in Suntec City mall. It allows shoppers to purchase deals and redeem them on the spot.