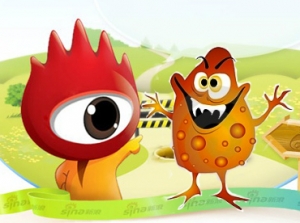 China's Sina Weibo experienced what we believe is its very first virus outbreak this evening. Within only a few hours, over 30,000* users were affected, before the virus maker was spotted and his account, @hellosamy, was deleted by Sina.
This evening, a large amount of Weibo users clicked on links from that account and started to automatically forward the spam weibos and private messages to others on the Sina Weibo platform. Whoever clicks those links will repeat the same auto-forwarding process, and they also automatically follow @hellosamy. Most spam weibos had an enticing and sometimes erotic title, teasing that they contained nude pictures of famous actress Fan Bingbing, or goofs from just-released (propaganda) movie: Beginning of the Great Revival (Jian Dang Wei Ye).
Shortly after the outbreak, Sina confirmed the incident by notifying some users, including a number of famous verified users. Hong Huang, a famous publisher, said that she received over 7,000 private messages with virus links this evening.
Sina has sent out notification to users to prevent further propagation of the virus. No other details have been provided by the company, but Twitter users will no doubt recognize this type of link as the very same kind of spam Tweets that we do our best to avoid.
*We assume 30,000 since @hellosamy had attracted that number of followers, but it's possible the number could be greater.