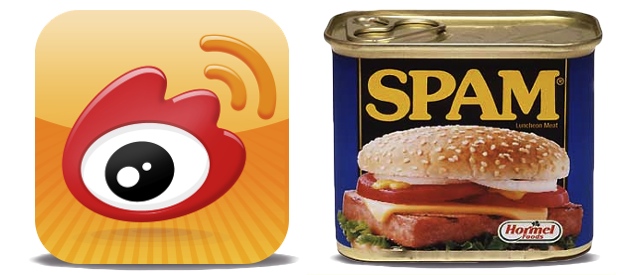 We've long been concerned about just how many of the 250 million users of Sina Weibo are real, and not spam or zombie accounts. Now a report from the HP Labs 'Social Computing Research Group' claims to have found that an astonishing 49 percent of all retweets on the microblogging service come from fraudulent accounts. To make it worse, those automated fake users account for about 32 percent of the total tweets.
And so all that spam is falsely driving what's 'trending' on Sina's (NASDAQ:SINA) social network and might also be manipulating regular users into perpetuating rogue retweets. The report's team found that much of that co-ordinated retweet machine was being driven by "1.08 percent of the total users" on Weibo. It could be said that it's much like the global financial system, where one percent are screwing over the 99 percent. The authors observe:
The suspected spam accounts affect a majority of the trend-setters in our sample, helping them raise the retweet number of their posts and thereby making their posts appear on the trending list. The overall effect of the spammers is very significant. We also observed that a high 98 percent of the total trending keywords can be found in posts retweeted by suspected spam accounts. Thus it can also be argued that many of the trends themselves are artificially generated, which is a very important result.
The report also found that retweets are more important on Weibo than they are on Twitter. That's likely because the implementation on Chinese microblog services is a lot nicer and more user-friendly. On Twitter, a retweet still limits you to the same 140 characters (unless you use the horrible new RT mode where you can't edit the text at all), while on most of the generic microblog clones you get to append up to 140 characters onto the original, giving a useful extra area for expounding on the original tweet. The report notes:
From our sample we observed that a high 65 percent of the tweets are retweets. Thus, we can hypothesize that the effect of retweets is much larger in Sina Weibo. Sina Weibo users are more likely to learn about a particular topic through retweets.
On the bright side, Sina already has some mechanisms in place to reward users for being both real and useful to Weibo. People have the option to become a verified user, though that's generally reserved for well-known individuals; or, they could become a 'da ren' – an expert – by applying to Sina in a similar manner. But both those entail proving your real name and ID.
'Real ID,' however, seems to be the way forward for microblogs as a whole in China, with the government mandating that Sina, Tencent (HKG:0700), Netease (NASDAQ:NTES), and all other providers, have users' names and national ID numbers on file. That has been done to stop the perpetuation of false rumors online – though some observers fear it's another attempt at the suppression of free speech – and might also take down the spammers as collateral damage.
To read the report in full – and learn about its methodology, as well as see its maths – hit the source links below.
[Source: HP Labs Social Computing Research Group; direct PDF download]