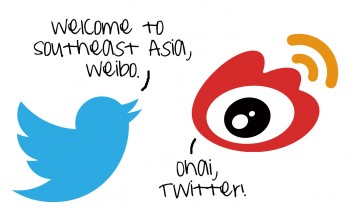 Sina Weibo is no stranger to most of us. It first started as a Twitter clone, and has since innovated to morph into an offering that surpasses the original site. Currently boasting over 500 million registered users worldwide with more than 46.3 million daily active users, the popular Chinese microblogging site is aiming for a slice in the Southeast Asia market, and recently expanded to Singapore with plans in Indonesia as well.
But these markets are dominated by Silicon Valley companies such as Facebook and Twitter. It's unclear if Sina Weibo can succeed in penetrating and reaching out to its targeted Chinese speaking audience in the two countries, or even Southeast Asia. While it has set an ambitious goal of getting 1.5 million daily active users in Singapore, we don't know how the company plans to achieve that.
In two weeks' time, we'll find out from Jimmy Li, who currently heads Sina JV-company Trends Media at our very own Startup Asia Jakarta conference on November 21 and 22. He will be revealing some first-hand information about Sina Weibo's current situation in Southeast Asia, as well as its plans and strategies for tackling the market. We often say China is a tough market, and now let's see from a Chinese company's perspective what the challenges are in expanding to other parts of Asia.
And I'm pretty sure our beloved readers and those of you participating in our conference would have some questions you would like to ask Jimmy, so I strongly urge you to include them in here. We're going to have a lot of fun at Startup Asia Jakarta, and just to make sure you're not missing out, do grab your tickets as well. See you in two weeks!
(Editing by Terence Lee)