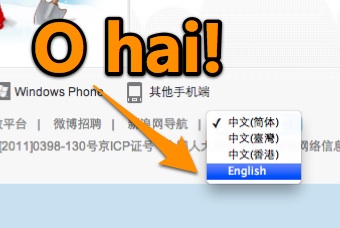 Sina Weibo has over 400 million registered users, though it's hard to know how many of those are overseas. Nonetheless, we've noticed today that the Twitter-esque Weibo has just rolled out a partial English-language interface. We've reached out to Sina (NASDAQ:SINA) to found out what's happening. [UPDATE 30 minutes after posting: A Sina representative in Beijing tells us: "Countries in Southeast Asia [can] pick English or Chinese – this isn't opened globally yet." But in our test, it's working in America right now].
The Weibo.com frontpage – which has a simpler redesign today – now also has an "English" option in the dropdown menu (access it here), though it doesn't convert the whole page from Chinese. Then, once logged in, Sina Weibo now has some English in the menus, but the whole interface is far from transformed. But it seems to be a start.
This is how it looks with English, as it appears now for my colleague Charlie in the US. Note that the logo is now in English too:
You can contrast that with how it looks for me here in China:
In November of 2011, Sina revealed that it had two million users in Hong Kong, though I suspect many of those are using the traditional Chinese text interface.
If Sina Weibo converts its whole UI into English, it could help overseas brands do social marketing to Chinese consumers.
Sina's microblogging platform is having a very rough week with a large-scale revolt among Chinese netizens over heavy-handed censorship of an editorial at the usually quite outspoken magazine Southern Weekend. Much of that anger has been expressed via Sina Weibo, causing one of the moderators (i.e. censors) at Sina Weibo to make the highly unusual move of speaking out, pleading for understanding about how Weibo is a kind of "human flesh shield" between users and authorities.
Rival microblog Tencent Weibo added a broader English interface in September 2011.