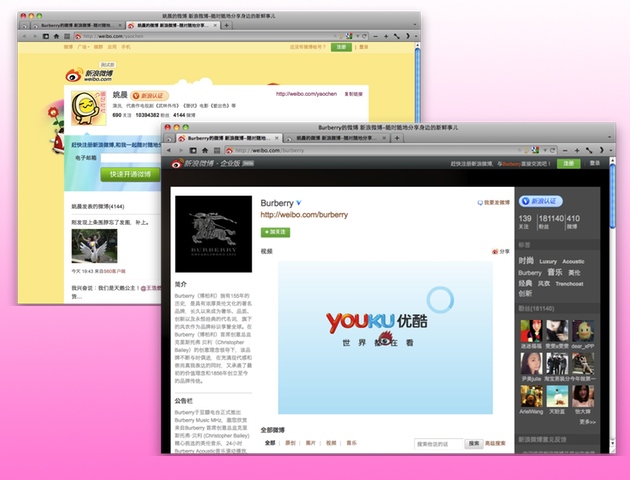 Sina Weibo, China's most popular microblogging service, has started to roll out a redesign of its site – so far only to some brands – that sees it evolve yet further beyond its Twitter-like beginnings.
The reworked layout is version 4.0 in Sina's development of Weibo, expanding it into more of a social network than just a place for firing off 140-character missives. Central to that is a wider layout, with more of an emphasis on introductions, tags, and photo albums. In the image at the top of the post, you can see the new layout on Burberry's brand page; for contrast Weibo's most followed user, the actress Yao Chen still shows the old format today.
What's new exactly? From looking over a few brand pages that have been graced with the redesign – it'll appear for all users eventually – here are the seven key differences:
Wider, with three columns – In contrast to the old two-pane layout, the newer one is appreciably wider; it's now 1,000 pixels wide, rather than the previous 800 pixels.

Revamped top navigation bar – It's now more stylish, less cluttered, and houses the search box.

Longer intros – Prepare to wax poetic on your love of kittens and ice-cream, because Weibo now permits you a fairly lengthy personal introduction.

Noticeboard – This permits links. Burberry has already put four links on theirs. I'm not sure how structured – or open to spamming – this might turn out to be.

Photo galleries – We knew that photo galleries were coming to Sina Weibo, so here we have a first glimpse of them in action. The new left pane in the Weibo redesign will house a shortcut to a users' photos. At the moment, the thumbnail is unenticingly small.

Tags – Weibo is getting tags, allowing for keyword-related searches throughout the site. Located on the right-hand pane, they'll serve as a useful shortcut for Weibo-wide searches, and perhaps for finding like-minded tweeters.

Internal tweaks – There are reports that Weibo will get some useful tweaks with the interface update, such as support for attachments inside direct messages. That's not visible to regular users yet, however.
Interestingly, the left pane seems very customizable, and a number of other Weibo widgets could be put onto it, such as the poll that's now on Dell's Weibo page.
But, curiously, though the redesign has all the promised new features, it doesn't quite match the sneak peak of the version 4 layout that Techrice teased last week. Perhaps the new Weibo outfit that some brands are now wearing is not quite the finished article. It looks like the box that contains ones' follower numbers, and the recently-introduced badges, still need to be swapped over from the right-hand pane to their proposed new home on the left.
If you'd like to check out the new three pane design, you could check out Burberry's Weibo page, or perhaps Lenovo's or Dell's.