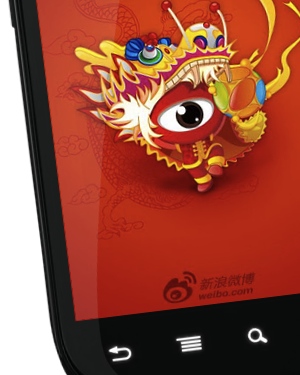 Sina (NASDAQ:SINA) is prepping a 'Weibo phone' that runs a customized version of Android, according to rumors in the Chinese media. Due later this year, the phone reportedly exists only as a fully-formed design so far, and is awaiting approval to be pushed into reality. Plus, Sina has set up a dedicated team of 10 staffers which could increase to hundreds if this mobile venture takes off. It's not clear which company might be the OEM for the device.
The same source suggests that the Sina Weibo phone would be powered by a Snapdragon processor, the same Qualcomm (NASDAQ:QCOM) chip that powers devices made by dozens of Chinese manufacturers.
Sina's arch-rival Tencent (NASDAQ:TUDO), whose own microblogging platform (which uses the same generic 'weibo' name) has more users than Sina's but often generates less media buzz, has made a couple of attempts at its own Android-based OS. It sounds like the kind of move Sina might be trying to make this year, except that Sina looks to be designing and branding the hardware as well.
Last summer, Sina worked with HTC (TPE:2498) to release the Weike phone which had a special, hard button just for accessing Weibo. But it was a disappointing and over-priced gadget that was a mere rehash of HTC's earlier 'Facebook' phone.
It remains to be seen if Sina executives believe that its mobile strategy requires its own branded hardware, or whether its raft of standalone Weibo apps – for iOS, Android, Symbian, and more platforms – will suffice. We'll keep you posted.
[Source: Marbridge Consulting; via TNW Asia]