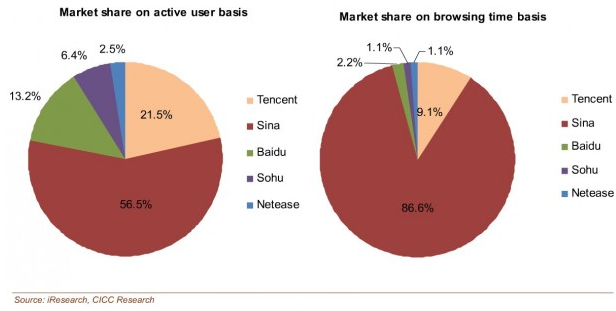 According to iResearch, microblogging site Sina Weibo (China's Twitter) holds a clear lead over competitors such as Tencent and Baidu, with 56.5% of the market based on active users and 86.6% based on browsing time.
Sina Weibo has shown staggering growth in a very short time, having accumulated about 100 million users since its beta launch in 2009. Another recent paper from Incitez cites the microblog as winning 10 million new users per month, putting them on pace to surpass 150 million sometime this year.
Celebrities (Tom Cruise is on board), corporations, and even government officials flocking to Sina Weibo in growing numbers. The site is growing fast in Taiwain and Hong Kong too.
This past December the company purchased the t.cn domain name for 5 million yuan, and it now redirects to the microblog site. The memorable URL is currently being used for the websites' link shortener as well.
The appeal of Sina Weibo and other microblogs in China can be likened to the appeal of Twitter elsewhere. Netizens get the information they want in faster, more personalized stream that contrasts greatly with traditional media and news.
But for a look at what makes this site stand out from Twitter, see our post 'What Twitter could learn from China's Sina Weibo' from earlier this year.