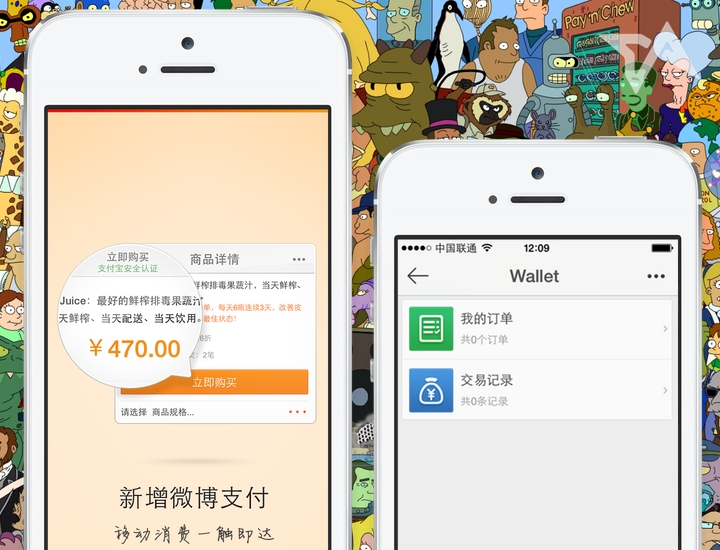 Sina Weibo, China's top Twitter-like social network, has updated its iPhone and Android apps with something it's calling Weibo Payment. (Update 2: Before Alibaba confirmed this officially, we were calling it 'Weibo Wallet'. The name has now been changed in this article).
The introductory splash-screen for the updated Sina Weibo app – now at v4.2 – tells users they can make payments within Weibo for any product that someone shares or links to within the app. It promises that "paying online is just a tap away." A "Wallet" section now appears in the "Me" area of the Sina Weibo app. However, it's poorly implemented right now, and there's no explanation of how to connect this new Weibo Payment to any e-payment service or bank card.
This is not Sina Weibo's first attempt at online mobile payments. At the end of 2012, Sina rebranded its PayPal-esque SinaPay as WeiboPay and included it in its Weibo mobile apps. But that clearly wasn't sufficient as smash-hit messaging app WeChat ramps up its mobile wallet capabilities, making it easy to do things like buy movie tickets or top-up your phone credit within the app. WeChat has implemented this much better, at least so far in the battle.
China's e-commerce titan Alibaba took a stake in Sina Weibo in April 2013. It's not clear if the new Weibo Payment is linked to WeiboPay or Alibaba's Alipay. We've contacted Alibaba and Sina to clarify the details. (Update 1: A representative of Alibaba's Alipay division confirms that Alipay is a part of this new feature, but it's not yet officially launched, despite appearing in the update Sina Weibo app today. The Alipay rep explains that Weibo Payment "will support both online and offline payments").
(Editing by Josh Horwitz)