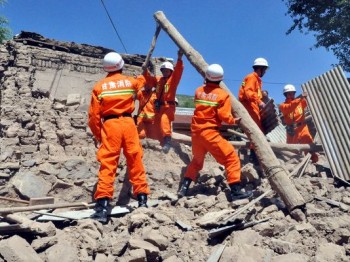 More good news in the vein of social media being used for disaster response: China's state seismological bureau, in an apparent cooperation with Sina Weibo, has announced a new feature on its Weibo account that will automatically notify followers of an earthquake virtually immediately — between 10 to 100 seconds after the quake, according to Sina Tech. The notifications will come via private messages and will only be sent to users in the vicinity of the earthquake. Since they're sent as PMs, they will appear on users phones without the users needing to actually open the Weibo app (unless they've disabled notifications, presumably). According to sources at Sina, it is much like text notifications, but quicker and more accurate.
The advantages of such a service are obvious, as it could allow for faster response times for rescuers, and could help notify potential victims who weren't aware of the initial quake before any subsequent aftershocks can inflict further damage. That's still not as good as getting a notification before the quake, of course, but since earthquakes are extremely difficult to predict, this new service is probably the fastest earthquake notification China can hope for in the short term.
Usually when we talk about Sina working with the government it's in the context of censorship, so it's great to see them cooperating on a genuine public interest project like this that has the potential to help save lives. China has been the victim of a number of devastating quakes in recent memory — the worst being 2008's Beichuan quake — but this Weibo announcement comes just as news is spreading of a magnitude 4.6 earthquake in Sichuan occurred just hours ago.
(Xinhua via Sina Tech)