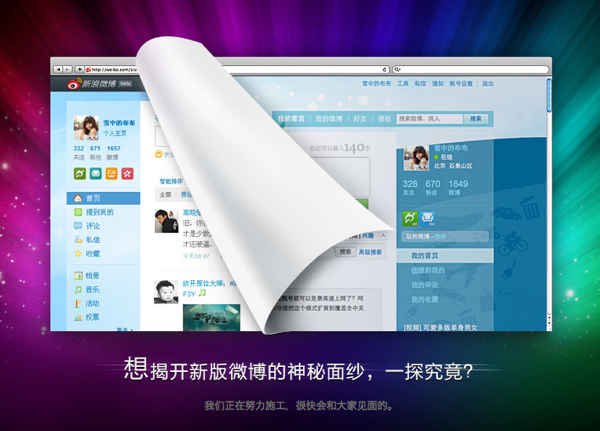 Today Sina is giving a glimpse into an update to Weibo, its smash-hit microblogging platform. It's not just a cosmetic facelift, however – the teaser image (above) indicates photo and music albums, stocks/shares, and a 'more' tab to suggest further new features.
With photo and music albums, it looks like Sina Weibo is expanding to be a fuller social-network, not just a launchpad for 140-character missives.
Earlier this week I reviewed the closed-beta Sina Qing, which is a Tumblr-style blog that's very tightly integrated with Sina Weibo, allowing cross-posting and further interactions between the two sites. It's likely that the new photo and music album features will be similarly cross-functional; we'll find out when Sina opens its Weibo Beta – here's the Beta teaser page, though there's nothing else on there – to those who wish to experiment.
Why the new features now? Well, aside from meshing it more tightly with Qing, Sina will be aware that photos, music and a few other relevant features can keep users on your site for longer, and make them less likely to get their kicks elsewhere, such as on 'fuller' SNS such as Renren or KaiXin.
Look out for a full review of Sina Weibo Beta here on this site, when it rolls out.
[Hat-tip to iChinaStock.com for spotting the beta page]