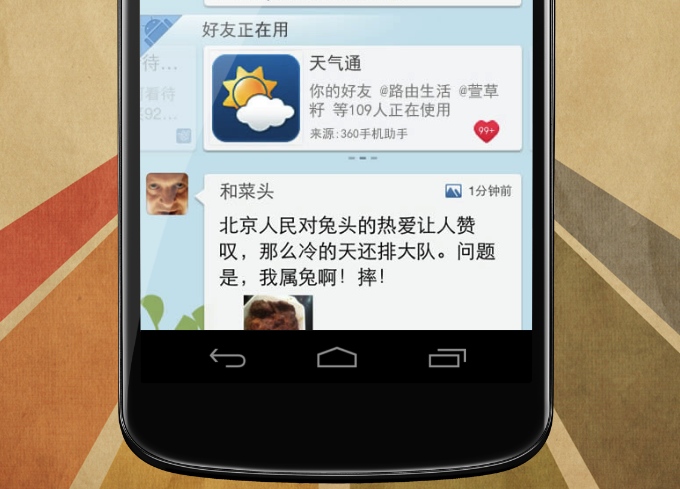 Friends and online contacts are a great source of app recommendations. And Sina Weibo, China's top Twittery service, seems to agree. In the newly updated Sina Weibo for Android (v.3.2.0 beta 1), the social network adds cards to your stream (pictured above) whenever someone you follow installs an app from Sina's (NASDAQ:SINA) own third-party app store [1].
It's all pretty useful. Though an unwary individual might find himself or herself – well, more likely 'himself' – downloading an app of a saucy nature, such as Japanese Beauties Bouncy Boobies Live Wallpaper [2], from Sina's Android app market, and then seeing it broadcast to all your followers.
In addition to that, the newest Sina Weibo for Android app shows a similar app card, replete with the app's icon, whenever someone links to an Android application on an array of third-party download sites. It's a bit like the preview that Google+ implemented recently whenever someone links to an app on Google Play – except that the system is a lot more inclusive on Weibo. If you fancy installing this app yourself, then the link in the Sina Weibo for Android app takes you to a landing page from which you can install that app directly to your phone – all from within the social app. It looks like this: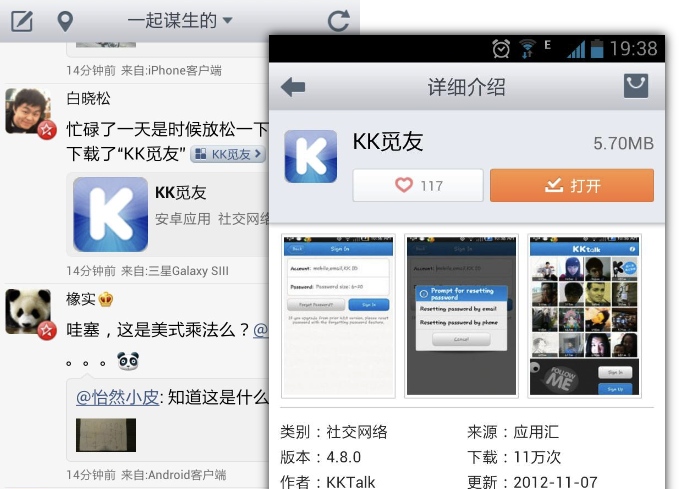 Just yesterday we looked at how the latest Sina Weibo app update was also bringing tentative support for Sina's own e-payments service, including on the iPhone version.
You can get Sina Weibo for Android from pretty much any third-party app store, but it seems apt to snag it from Sina's own App Center, here.
[Images: Techweb]