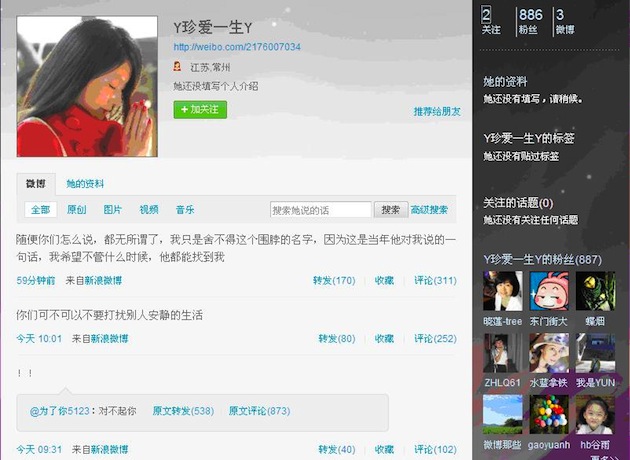 Anthony Weiner, you've got company! An official in southern China has been using the Sina Weibo microblog as a chatting tool to talk and flirt with his mistress, talking about their hotel date, and claiming illegal redemption of personal expenses. Amazingly even after their Weibo chats attracted thousands of followers, they had no idea that Weibo was a public place, and that messages were visible to anyone. They thought it was a private QQ-like instant message service!
Mr. Xie, head of the local sanitation bureau, and his mistress reportedly both have families. They followed only each other on Weibo, but apparently presuming that Weibo was private. They flirted, made date plans, and the mistress even asked Mr. Xie to reimburse her expenses by using his position of power.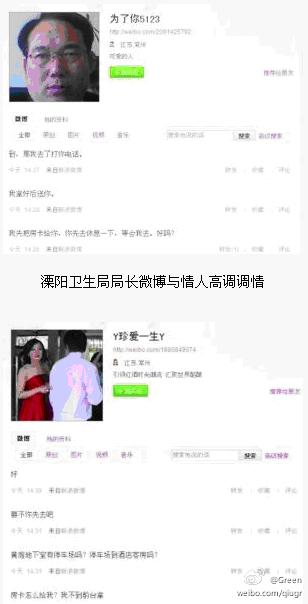 Here are a few translations of some messages, which have since been deleted:
Mistress: Dear Pangpang (a nickname), I will be at Muhu tomorrow, give me a call.

Xie: How will you give me the hotel room card, I will not take it from reception by myself.

Xie: Get me the hotel room card. Take a break in the hotel and I will be right over, ok?

Xie: Honey, we should not make phone calls or SMS's. This is Meet on Weibo, I miss you so much, let's decide on Weibo where to go, ok? [This is perhaps our favorite message!]

Xie: Did you buy anything in Shanghai? I will take care of the reimbursing.

Xie: No wonder Yang leaves his beautiful wife at home, if I were him, I couldn't get enough of her.
After the conversation was exposed online, thousands of netizens gathered to witness it. Mr. Xie's weibo account was deleted, his last Weibo post being just "Sorry." However his mistress posted "Leave me alone" and that she won't deactivate her Weibo account, because the username has sentimental value for her.
A journalist subsequently interviewed Mr. Xie via telephone and he owned up everything, saying that he posted all the messages by himself. He was quite shocked to know that his Weibo was then all over the Internet after being told how microblogs work.
Clearly there are parallels between this case and the now infamous Anthony Weiner twitpic incident. Both situations involved married government officials who played around with women who weren't their wives on social platforms they mistakenly thought were private (Twitpic in Weiner's case). Weiner of course later resigned, but we still don't know what will happen to Mr. Xie or how the media will react. But we'll try and keep you posted.
[Via shm.com.cn]