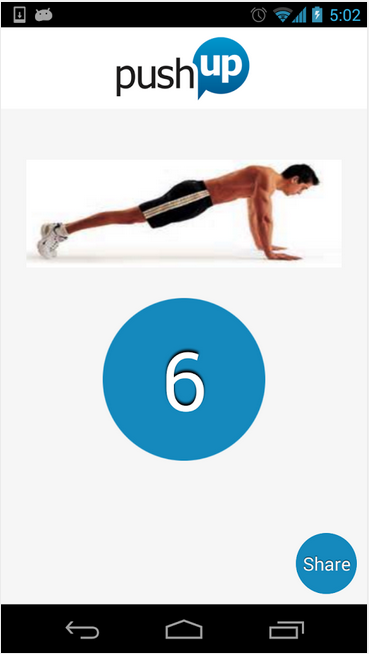 Pooshup, a simple exercise app that uses your phone's proximity sensor to count push-ups, doesn't have a typical founding story. In fact, it doesn't have much of a history at all – the three co-founders just met at AppHack in Shanghai about a month ago. In 24 hours, the five-member team built the app.
Co-founder Gustavo Madico, the only non-Chinese member of the team, originally wanted to create a drinking game app, but co-founder Forrest Shi wanted to make a health-related app. Pooshup was their compromise, as it gamifies exercise in a fun way. Just place the phone on the ground facing up, then do pushups over it. You can set a timer, join the leaderboards, compete with friends in the room, and share your progress on WeChat.
Since winning that hackathon, the team went on to enter Startup Weekend Shanghai, where they also took first place. The prize was their own booth at Techcrunch Shanghai.
The team quickly got their hands on some branded swag. Now armed with colorful business cards, T-shirts, a website, social media accounts, and two yoga mats, their booth got more than 120 people down on the ground doing pushups. As a result, they earned the "Hottest Booth" award, marking their third win in 12 days.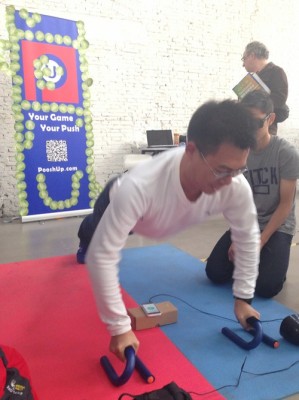 It's fast times for Pooshup, and Madico – who lives in Beijing and joined AppHack off the cuff while visiting a friend in Shanghai – admits he doesn't have a set business plan yet. He won't reveal user numbers, but the delightfully simple app is getting some major love in its current competition: Global Startup Battle. It's not leading the pack, though. Anyone can vote for their favorite startup once per day until the competition ends, and the winner will get a Google Mentorship at Google HQ in Silicon Valley.
The real question for Pooshup is whether all this success on the competition front can carry over to real-world success. The team needs to figure out how they will monetize, distribute, market, scale their model, and potentially attract investment. The app might seem simple and silly, but Madico says the company is a long-term commitment.
"Our direction won't change. Our vision won't change. But we are open-minded on the path to achieve it," Madico says.
You can try out Pooshup for free on Android. An iOS version has been built, but the team is awaiting approval from the App Store.
(Editing by Steven Millward)