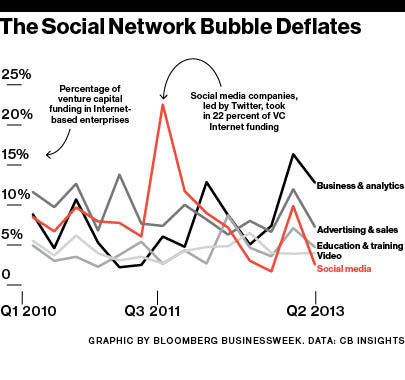 Two interesting articles just came out that shed light on the state of investment between Asia and Silicon Valley.
According to BusinessWeek, "US startups raised less money from venture capitalists last quarter than in any quarter since the start of 2010." The report also indicates that American VCs are turned off by social media investments, and are going more into fashion and home goods. In other words, e-commerce. In Asia, this space is also growing considerably.
On the other hand, Asia seems to be picking up. At "$62.5 million, the Asia-Pacific region had the leading average deal value for investments" reports James Whalley. He gave us an interesting report from the Internet Dealbook, the report gives us some interesting figures which give us some perspective on the way money is moving around the world, especially Asia.
Asia-Pacific's average deal value of investments climbed 276 percent in Q2 2013 compared to Q2 2012. Clearly, Asian companies are becoming more enticing and investors are getting more bullish. The top deal of the year is $810 million being pumped into China's Beidou. The bizarre thing about sticking Beidou in that Dealbook list is that it's a government space project that designed to be China's own sat-nav satellite system; that's as weird as including NASA in the Silicon Valley list. Sina Weibo, which got investment from Alibaba earlier this year got $586 million, and is also one of the biggest deals of the year in Asia and worldwide. The website doesn't yet mention Baidu's mega-acquisition of 91 Wireless at $1.9 billion which happened this week. Suffice it to say, that deal will tip the scales considerably in Asia's direction in the next report.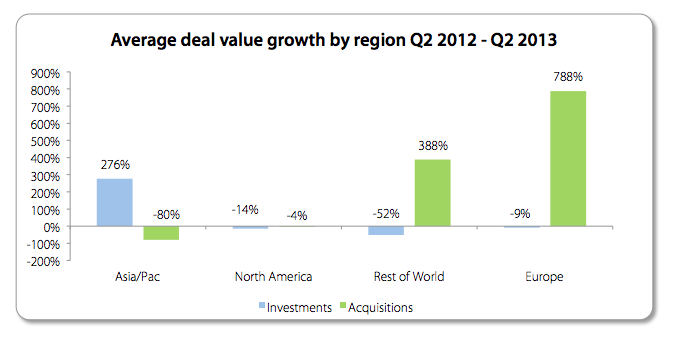 On the other hand, the USA and Asia are dwarfed by Europe's tech and web growth which saw a 788 percent increase in average deal value growth. No doubt because Europe is starting from a smaller starting point.
We can speculate a bit about what these numbers mean. The USA is slowing down, Europe is extremely hot, and Asia is becoming more and more a place for startups to grow. Given the level and proliferation of startups that we're seeing here at Tech In Asia, we expect Asia's deal numbers to double or even triple by the end of next year.
If you want to check out more interesting numbers, I highly recommend you hop over to Internet Dealbook and take a look. There's some really interesting stats in there.
(Editing by Steven Millward and Enricko Lukman)