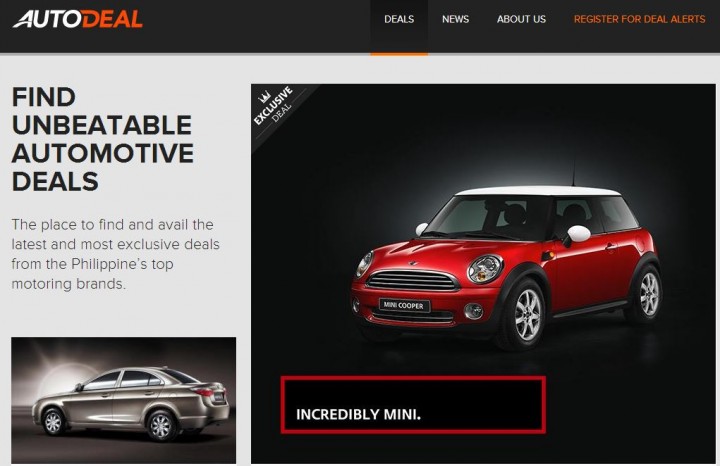 From a simple frustration of trying to find accurate vehicle resources in the Philippines, Pinoy Auto Trader has provided a vast directory of car dealerships for Filipino consumers. But it was cut short when its parent company, Sulit (now OLX Philippines), decided to shut it down. Now its founders have teamed up for a second time and built a brand new car marketplace for the Philippines.
Launched in April, Autodeal focuses on giving consumers information on current promotions and deals on brand new cars, motorcycles, and accessories. According to Autodeal co-founder Christopher Franks, the goal of the website is "to provide the best amount of information and help customers find vehicles at the best price." He explains:
Doing research online is really difficult, and if you want to find a car, you have to go through 20 different websites. What we're trying to do is to collate this information. Our goal is to be the go-to place when people are looking for vehicles.
Driving data to sales
Autodeal is trying to capture different segments of the market by listing everything from high-end vehicles such as Chrysler to lower-priced vehicles like Haima.
For car manufacturers, it functions as more than an advertisement platform, it also offers information that will translate to sales. Autodeal provides manufacturers with customer leads that match the interest of the buyer to their catalog of vehicles. The leads are accessed by the dealers through Autodeal's back-end database. Apart from generating leads, dealers and manufacturers can find statistics on the most-searched car specifications on the site.
Learning from experience
Franks says trust is one of the biggest issues for consumers when dealing with online marketplaces. This is one of the issues they are addressing by working directly with dealers and manufacturers. The founders understand how good relationships with different car sellers is crucial to creating such a platform. Franks adds:
During that time at Sulit, we learned about using our resources and building partnerships. We wanted to stay and continue the relationships that we built.
Pinoy Auto Trader has been a good training ground for the founders. Their acquired knowledge could make Autodeal into the Philippines' best marketplace for both car sellers and buyers.
Autodeal features vehicles from more than 20 manufacturers. With interest from other manufacturers coming in, this is expected to increase. A number of new features will be rolled out in the coming months. It also wants to allow online payments on the site in the near future, which would be a first for a car marketplace in the Philippines.