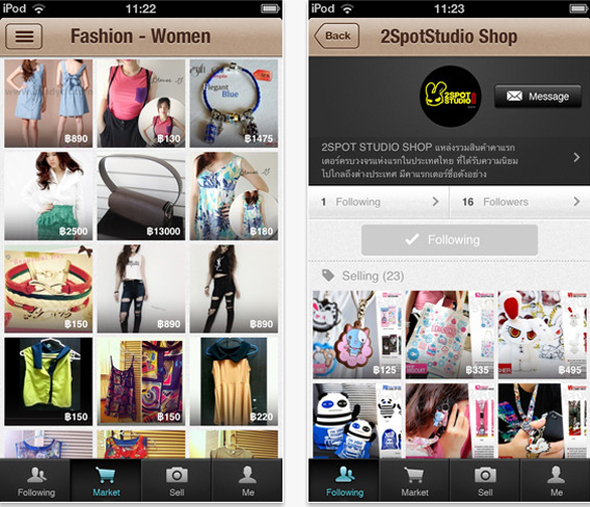 ShopSpot had a rough 2012 when, after a hot start, its peer-to-peer mobile marketplace struggled to take off. Now, with a SGD 779K  (USD 628K) cash injection from Jungle Ventures and SingTel Innov8, the Thailand and Singapore based startup is giving it a second go.
While the app (available on iOS) received 10,000 downloads in just over a month when it launched in April last year, CEO and co-founder Natsakon Kiatsuranon found 60 days in that the Craigslist model does not seem to work well in Asia. That was not the only challenge.
"It was so much harder than we thought to built a two-sided marketplace," said Nat, echoing another startup that faced similar challenges and had to pivot.
"The first marketplace to reach liquidity wins and it will not happen without providing the relevant items to the buyers at the right place and right time. Also, getting sellers on board is easier than providing the reasons for buyers to buy."
Furthermore, the team observed that there was very high demand from local shops for an easy way to sell on mobile. While businesses have begun selling on Facebook and Instagram, these are not long-term solutions.
So, instead of billing itself as a Craigslist for Asia, the JFDI.Asia graduate is modeling itself after Etsy instead.
In concrete terms, this means that its app has begun offering more features to serve small businesses, such as a digital storefront and a directory that sorts shops according into categories like beauty, gifts, and gadgets. It'll also offer some editorial content that will curate items for shoppers in Thailand, which is its test market.
What has remained is the ability to post items online through the app by snapping pictures of the item with a smartphone.
While the startup has no revenue model at the moment, it does have a runway, contributed by seed funding from Thai angel investors and JFDI.Asia — that will allow it to experiment with several possibilities.
In the pipeline is a freemium model that charges businesses a fee for advanced functionality. A targeted ads feature is being considered too, which Nat describes as being similar to Twitter's promoted tweets.
Finally, the team will explore selling virtual items like stickers to decorate shops and badges for profiles and items.
The startup's change from a peer-to-peer to a B2B2C model has implications for Carousell, a Singapore-based startup that has a similar mobile app that launched five months later than ShopSpot's.
Time will tell if Carousell will find the Craigslist model untenable.