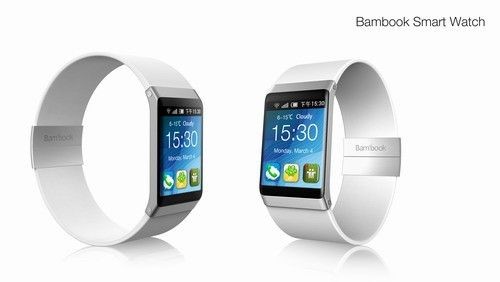 China's Shanda has made e-readers for years, and launched an Android-based smartphone last year. Its next hardware venture will be much smaller and actually wearable – a smart watch. According to Chinese media reports this week, it'll be called the Bambook Smart Watch and will run the open source Firefox OS.
The leaked picture above, spotted via Technode, is said to be the actual Bambook Smart Watch, and it'll launch in June. Running Mozilla's Firefox OS – which will also be adopted by a number of Chinese smartphone makers, like Huawei and ZTE – the wearable device will run HTML5 web apps, negating any dependence on things like Android native apps. Though reports suggest the device will also support Android will be available as a separate version for Android (and thanks to Engadget's Richard Lai for pointing out that detail).
As well as using the Bambook name that's so familiar to Chinese gadget buyers, Shanda's smart watch will use the kind of color e-ink display (1) that has been put into service on its e-readers, but there are no hardware specs available yet.
The Bambook Smart Watch looks to be arriving at an opportune time when no other major Chinese hardware makers have entered the space. Shanda, as one of China's largest software, hardware, and gaming companies, already has the distribution channels to promote and sell this well. Plus, it'll benefit from the perpetual and very dubious hype surrounding "rumors" (2) of an Apple iWatch. There are other such watches from Sony and Pebble, but they'll likely never properly support Chinese web services and so will not catch on in China.
Speaking of web services, Shanda has plenty of its own that could make the Bambook Smart Watch a compelling buy – imagine if the watch could read aloud your Bambook-purchased e-books, sync your Shanda MKnote reminders, whilst giving you updates on how your gaming buddies are performing on your favorite Shanda MMO game. We'll have to wait until June to see just how smart the watch will be.
(Source: Techweb – article in Chinese; hat-tip to Technode for spotting this)