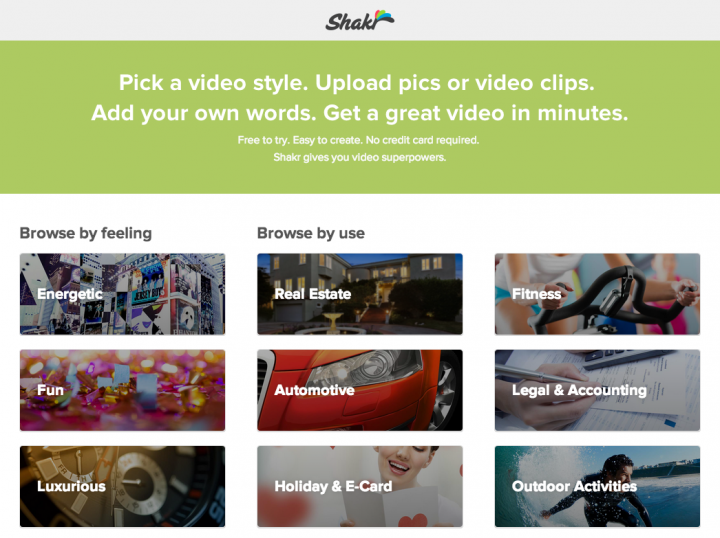 Big brands spend huge amounts of money and time creating glamorous or persuasive adverts for their products with the help of the world's top advertising agencies. But making a video ad is a lot tougher for a small business.
A startup called Shakr is attempting to help small business owners – especially ones such as real estate agents, restaurant owners, and car dealers – to make a video-based ad campaign using its marketplace for high-quality video themes and clips. As well as the themes available for sale, Shakr has an easy-to-use video creator so that an ad can be spliced together.
Last week, this Seoul and San Francisco-based startup announced that it has secured its latest funding round from POSCO Venture Capital. There are no financial details pertaining to the latest funding round, but Shakr now has a total of US$3 million in funds that will enable the team to expand the business serving other industries.
Shakr's early investors include Korean web giant NHN along with some angel investors. Earlier it was the first Korean company to get investment from 500 Startups. With this recent investment from POSCO, Shakr wants to push into the motion graphics marketplace and advertising sector more aggressively, targeting individual users as well as small businesses across numerous industries. Right now they're keen to pull in car dealerships.
"Auto dealers know the benefits of using video, but high production costs have limited the number of video advertisements they could make," says David Lee, the founder and CEO of Shakr.
See: A Swiss smartwatch? That's now a real thing
Lee, a Canadian serial entrepreneur, established Shakr in 2010. He started his first venture back in 1994 with Avenir, an online barter exchange platform used by large enterprise such as GE and Siemens.
An online studio
Rather than using an app like Windows Movie Maker to create a video ad full of dull photo slideshows and tacky transitions, the idea behind Shakr is that it creates a better looking video that appears more professional – so long as you're willing to pay for the stylish video themes.
Users of Shakr can select photos or video clips they already have, and then drag and drop them into the video styles that were designed by graphic designers who have worked for major brands like Nike and Samsung. These HD-quality, non-watermarked video clips and themes can be previewed before a user buys them.
Designers set the price on a pay-per-video basis. The designers and Shakr share the revenue in which designers take 70 percent.
Shakr's only has eight car-related video themes right now, starting at $50 each. The site might add more auto-themed video styles at other price points in the future. Themes for other industries start as low as $10.
Can't ignore video ads
The service is focused mainly on the Korean and North American markets, but the international Shakr team has a big dream to go global – despite the huge challenges involved in music licensing. To resolve this, Shakr is looking for partners with a large library of royalty-free music.
Shakr's VP of marketing, Erik Cornelius, cites Comscore data showing that Americans watched nearly 29 billion video ads online in March this year. That means small businesses can't ignore this type of ad channel.
Other startups similar to Shakr include ViddyAd, Animoto and Stupeflix.
Check out an example ad made using Skakr for a random car dealer in the video below: