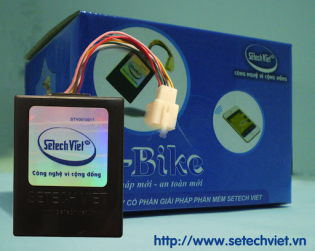 When people ask me about my favorite startups in Vietnam, SetechViet is at the top of my list. They've got an awesome young, innovative team and a product that intersects two huge Vietnamese markets: motorbikes and mobile phones. In Vietnam, there are over 33.4 million motorbikes (one third of the Vietnamese population) and over 140 million mobile phones.
The company designed a cellphone-operated device called S-Bike that installs inside a motorbike to deter and prevent theft. Customers can text their bike to turn it off, activate an alarm, and even get its GPS location. The company has developed an iPhone app, Android app, and the S-Bike can be activated with all feature phones via SMS.
Edit: Added extra details about mobile offerings.
I wrote a small article about them last year but I just had to grab an interview with them to get the full story. Dang Xuan Quynh, CEO, and Doan Thien Phuc, founder, gave me their one-year journey story.
Bike picked apart, company put together
It all started in 2009, when Phuc was still a sophomore at the HCMC University of Science, and a found his bike taken apart in a school parking lot.
The thieves didn't even steal the whole motorbike, they just stole all the necessary parts for reselling. It was at that moment that I thought I want there to be a way that I can know if anybody touches or tries to steal my motorbike.
Less than a year later, Phuc pitched the idea at a university-wide competition called S-Idea where teachers evaluate new ideas from students. He won the 'special award' along with 5 million VND (US$240), which he invested in new phones to start testing his idea.
While still finishing up his major in computer science, Phuc built the early software himself but quickly found he couldn't build a complete product without a team. The first team was four people, consisting of two on hardware and two on software. Quynh, one of the hardware guys and current CEO, elaborates:
The both of us actually met in Laos. We traveled there as a group with other universities to train teachers in Laos in technology. After that we became quick friends and actually spent most of our time playing video games together. In 2010, Phuc pitched the idea to me and I immediately signed on.
They found the other teammates in similar fashion, friends with technical prowess. Today, the core team is still small, just adding two more to the original team, making six total. All of them come from other universities in Saigon including the Industrial University of HCMC and the University of Technology.
The beta version
The company turns one year old this month. Phuc just came back from a one year Masters' program in France at Claude Bernard Lyon. In that one year, with Quynh at the helm, SetechViet has pushed out the beta version of S-bike. In the first seven months, it sold a modest 1,000 units to networks of family and friends. With these units, SetechViet's team was able to test the product and had a slew of interesting stories:
One of our customers got their bike stolen, they texted the S-bike, and it replied with the GPS location on Google Maps. She went to the location where the bike was and called the police. Upon arrival, the police found four stolen bikes. Apparently, the motorbike thieves had been stashing them here.
Other odd situations have also come up, such as thieves wheeling the motorbikes down the street and then running off when the alarm goes off. This has allowed the team to tweak accordingly.
S-Bike: the mechanics
With v1.0 of S-Bike tested, SetechViet plans to release the second iteration on February 5th with new hardware and a better software platform.
The gist of the product is that you can text the S-Bike to activate a number of features that protect your bike from being stolen.
The first version of S-Bike cost 1.1 million VND (roughly $53) and v2.0 will cost 1.5 million VND (roughly $72). The company will release 5,000 units of v2.0 on February 5th. After customers purchase the unit, SetechViet mechanics install the unit directly into the motorbike, hidden deep behind the shell casing. It contains a SIM card that is preloaded with 25,000 VND worth of prepaid minutes. Phuc points out:
You could use S-Bike for five to ten years and not need to input more money. Customers don't really end up using the prepaid minutes because most of the features that people use don't need them. The key features people use fall under the "An Toan" (safety) function.
That includes:
An alarm that goes off when someone tries to steal the motorbike
Preventing a key from turning on the motorbike until SMS activation
The phone calls you to let you know someone touched your bike (this does not incur a fee)
But the features don't stop there. There's also the ability to get the GPS location sent to the mobile, turning off the motorbike from the mobile, topping up and checking prepaid minutes via mobile, and even easily finding your motorbike in a large parking lot.
If a thief tries to remove the S-Bike (a feat that would take at least 30 minutes), not only will an alarm go off and notify the user, but it will also disable the vehicle's ability to start.
Check out the video (note: it's in Vietnamese) for a sample of how it works:
SetechViet's smart home future
All of this is already really interesting for me, but what really makes the SetechViet team awesome is their vision of the future. They already have a version two of the hardware, so I asked, what's version three, four, and five going to have?
What we're building is not just a device for motorbikes. We're building a platform for users to interact with their entire environment. In version three, we want to provide more complete integration with cars (this is only a minor possibility in v2.0). In version four, we're looking at automating the home.
These guys have vision. They want to go global with their platform and they want to lead the way for smart homes. If I were an investor interested in Vietnamese startups, this is the first Vietnamese company I would put money into.