Wei Leen does online marketing consulting for companies. A startup adrenaline junkie, he worked at 9flats and Moneysmart before starting his own practice. He tweets (infrequently) at @ngweileen.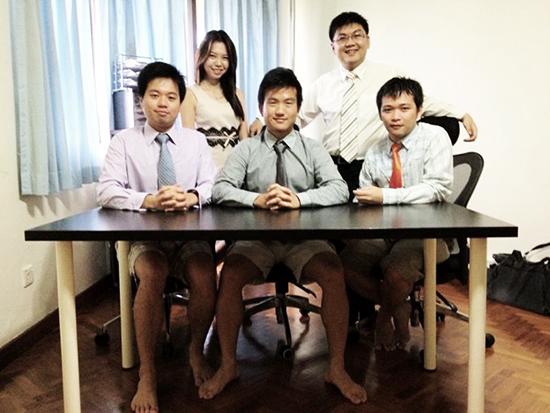 Recently-acquired Singapore startup Zopim is all the rage right now. Founded and nurtured tirelessly by National University of Singapore grads from 2009(!), Zopim has finally come of age. It is a really interesting case. It's a pure B2B product unlike social networks, so there's is no virality. Since so few users from the free-tier turn into paying customers, each new user's lifetime value (LTV) is not large enough to justify hiring a dedicated sales force.
For a product of its type, search engine optimization (SEO), search engine marketing (SEM), and pay-per-click (PPC) should be the top priorities. This makes the startup a perfect candidate for an SEO and SEM audit. If you consider both to be vital tools in your marketer's toolbox, read on. (If you missed my earlier post on how to do a basic SEO audit, you can read up here.)
SEM
The foundation of our audit is keywords. In order to find out what keywords are likely to be important to Zopim, we'll use the Google Keyword Planner. Skipping ahead a little, a quick search surfaced the following keywords that are likely to be effective for live chat providers like Zopim.
| Global monthly search vol. | Keyword | Bid Price (US$) | Bidding? |
| --- | --- | --- | --- |
| 5,400 | live chat software | 10.83 | Y |
| 3,600 | live support | 3.92 | N |
| 1,600 | live chat for website | 5.97 | Y |
| 1600 | live chat support | 6.27 | Y |
| 1,300 | zopim live chat | 0.33 | Y |
| 1,000 | free live chat software | 2.84 | Y |
| 1,000 | live support chat | 6.91 | N |
| 480 | live support software | 7.61 | Y |
| 210 | customer service chat | 13.38 | N |
This is one heck of a scary list. There are no keywords aside from brand ones that are cheaper than $2.80, and the most expensive one is over $12 dollars. Suppose you have a landing page for this niche that received 2,000 visitors per month at a cost-per-click (CPC) of $4, and you converted 100 of them into free account users. You would still be $7,960 in the red for just some free users. For this SEM campaign to be profitable, a customer's LTV must be upwards of $80 (cost of S$7,960 divided by 100 customers).
Fortunately, Zopim's pricing plans start from $11 dollars, which means it is probably viable for them if something like 55 out of the 100 signups end up using a paid plan for two years. For most aspiring startups without Y-Combinator level credentials though, SEM for this niche would be a non-starter.
Here are some of the ads that are running for Zopim SEM currently: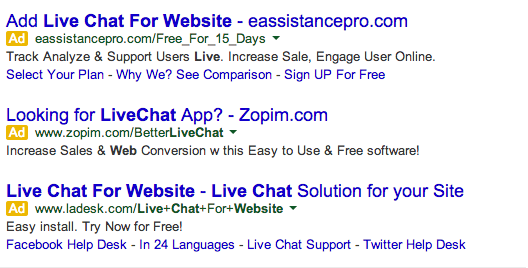 Despite competing aggressively in a tough market, it looks like they're not targeting an extensive set of keywords as expected. From the table above, "live support chat" isn't currently triggering ads, which is strange because they're actually the third result on Google for the term. It is understandable if they opt to forgo "customer service chat", which is prohibitively expensive, but being in third position for "live support chat" practically guarantees a good Quality Score. This means lower CPC cost for a higher position, which is a missed opportunity.
Head-to-head
Speaking of Y-Combinator, it is backing a Zopim competitor called Olark. We'll be using them as a benchmark for some basic SEM figures, as well as some Google Trends goodness.
| Global monthly search vol. | Keyword |
| --- | --- |
| 60500 | zopim |
| 14800 | olark |
The global monthly search volume for Zopim is four times more than Olark. At first glance it looks like Zopim is miles ahead in brand recognition. Let's shine more light using Google Trends.
In March 2010, Zopim became more popular in search than Olark, and hasn't looked back since. This shows us that the figures we have above are likely to change as the gap (potentially) widens. However, these two companies are based so far apart geographically (US versus Singapore) that a surface comparison would not be reflective of their position.
Digging a little deeper, we can see that they are most popular in somewhat dissimilar markets. Zopim's top 10 list does not include the United States. To digress slightly from the topic, this may partially explain why Zopim attracted Zendesk's attention in the first place, and why it could be a terrific acquisition for them in terms of expansion to non-US markets.
SEO
I went ahead and created the table above from the keywords we looked at earlier.
| Keyword | Global monthly search vol. | Ranking position | Lower (L) or higher (H) than Olark |
| --- | --- | --- | --- |
| live chat software | 5400 | 9 | L |
| live support | 3600 | 9 | H |
| live chat for website | 1600 | 6 | L |
| live chat support | 1600 | 5 | L |
| free live chat software | 1000 | 9 | L |
| live support chat | 1000 | 3 | H |
| live support software | 480 | 9 | L |
| customer service chat | 210 | 1 | H |
As you can see, Olark ranks higher than Zopim for most of the searches. The competition for these keywords is uber-intense! Every competitor ranking high for "live chat software" has PageRank of between 6 (Yahoo) to 8 (GMail). It's the gladiator pit of SEO.
Some quick digging revealed what is probably the reason for the amazing SEO of these companies. Every time a customer embeds their chat widget on the customer website, a backlink is made to the chat company's site, giving a small but important boost to the chat provider. Multiply that by tens of thousands of client companies and you have a veritable fortress of SEO! SEO this good can't be bought.
But Zopim's SEO isn't flawless. The homepage and three others ('pricing', 'product', and 'why Zopim?') all have unique but odd titles. While the homepage and pricing page have fairly useful titles like "Zopim Live Chat Software | Engage your Customsers | Live Support", and "Zopim Pricing | Free Live Chat Trial | Affordable Pricing", the product page and 'why Zopim?" page are awkward – "Zopim Product | Intuitive Widget | Powerful Dashboard" and "Why Zopim | Great Customer Service | Uptime | Integrations".
To top it off, the pages all share the same meta description, which is a big missed opportunity. A better strategy might have been to create pages that target the top five or so organic keywords that bring the most signups. If for instance "online customer service chat" has low traffic but converts more visits to paying customers than any other keyword, perhaps a page addressing that segment could be created, which would be even more targeted to the user's needs. Incredibly, this could very well make Zopim's SEO even more terrific than it currently is.
Overall, we've seen some admirably aggressive SEM based probably on conversions grounded in hard data. There's also smart usage of SEO that intelligently skirts the boundaries of what is considered kosher by search engines. Zopim's campaign is a goldmine for B2B software companies to learn from.