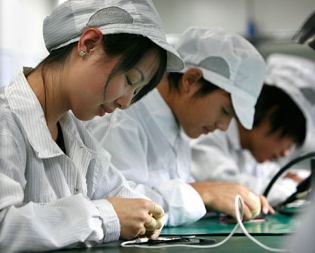 We knew the new iPad was meeting a less-excited-than-usual market in China, but are sales of the device flagging across the globe? Certainly Apple's sales numbers for the new iPad's opening weekend don't seem to indicate a sales slump, but according to the China Business News, sales are definitely down somewhere because something strange is happening to Foxconn workers on the iPad line: they're getting time off. Lots of it.
For instance, one iPad-line worker named Wang in Foxconn's Shenzhen plant told the paper that so far in March, he had already been given ten days off, an unprecedented number, especially in the days after a big global launch. This might seem like a blessing, but Foxconn workers like Wang are actually upset about it, since it means they make less money (needless to say, no one joins Foxconn for the vacations). With so many days off, Wang stands to make significantly less than his monthly salary — which is based on a six-day work week — this month, but rent and food haven't gotten any cheaper, which puts Wang and other workers like him in a tight spot.
Of course, it's possible the increased time off merely reflects Foxconn shifting some iPad work away from Shenzhen and into other factories in China. But in Shenzhen's Huaqiangbei, a gigantic marketplace that is often the first stop for gray-market Apple products on their way into China from Hong Kong, iPad scalpers continue to report dismal sales in China. "Don't even mention making money," one scalper told the China Business News, "I'm just happy if we don't lose money on them." Another said that the problem was that the new iPad looks the same as the old one, and that in combination with the ample supply of them coming in from Hong Kong, is making them harder to sell.
So how is the new iPad really selling? It's difficult to be sure. Apple seems to be quite happy with the worldwide sales, but it also seems increasingly clear that demand in China is not what people may have expected. However, is that because Chinese consumers aren't interested in the new iPad, or simply because they're choosing to wait for the official version rather than buying gray-market imports? We'll just have to wait and see.
[China Business News via Sina Tech, Image source]