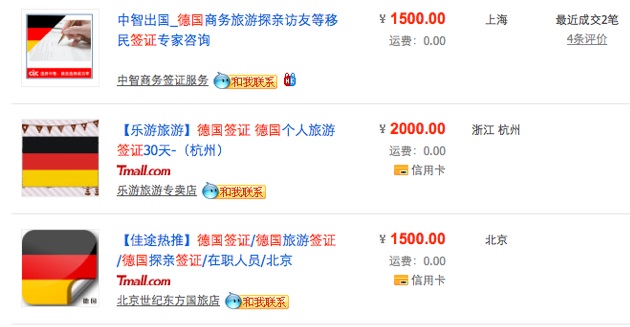 At the moment there's quite a snarl-up of Chinese people waiting for a German visa at the nation's consulates in Shanghai, Beijing, and Guangzhou. That has inspired some enterprising scalpers to start selling a place in the queue for the mandatory face-to-face interview before a visitor visa is issued, offering the spot in the queue via the e-commerce site Taobao for between 500 and 2,000 RMB (US$80 to $320).
The German visa waiting list is so long right now, that the WSJ China Edition found one woman who was told that the next free slot for the Consulate interview was after July 17th. Such interviews are required for all Chinese who'll go on personal or business trips to Germany. Only tour groups don't have to go through that whole process.
Searching for the combined words "Germany" and "visa" in Chinese on Taobao reveals 12 items for sale which are actually just a ticket to queue-jump. Those seem to have been ordered only three times so far. That online shopping site is China's most popular where ordinary people sell to consumers – much like on eBay – and so it was inevitable the site would be used by scalpers for this kind of thing. As the item for sale is not illegal – it's just a reservation, not an actual visa – then it might not be removed from the site. Tech in Asia contacted Taobao representatives at its Alibaba HQ, but they could not be drawn on this subject.
But the German Consulate has used social media to warn people about the risks of using such shady resellers. On its official Sina Weibo page, the German Consulate warned that such queue tickets might be fake. On a more ominous note, it warned:
The Embassies and Consulates would like to remind you of this: any attempt to cheat the system and manipulate the reservations will be punished by law.
But any Chinese folks who want to get to Germany anytime soon might have to hand over some cash to the scalpers, as distasteful as that might be. Germany is one of China's strongest trade partners, with numerous manufacturers from there operating in China, often necessitating international travel by some of the Chinese staffers.
Scalpers have a tendency to cause chaos in China – especially when a new Apple product launches. They often outnumber genuine buyers in the queue, such as at the recent iPhone 4S launch where scuffles broke out and some people – yes, probably scalpers – then egged the Apple Store.