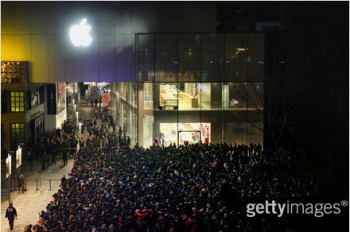 Today, Apple's iPhone 4S is finally on sale in China. It's been a long time coming, and fans of the Apple (NASDAQ:AAPL) device are clearly excited, as gigantic lines had already formed last night.
Sadly, all the fans scalpers who waited outside Beijing's Sanlitun Apple Store waited in vain, as the store has decided not to sell the 4S, at least for today. The decision was reached after last night scalpers in the huge line outside the store got into fights with each other. Likely, it reminded the store's managers of the scalper who was beaten up the last time Apple launched a product here and they decided just to can the whole thing. Needless to say, this engraged the entitled scalpers who had been waiting in line all night, some of whom apparently then went and bought eggs and egged the Sanlitun Apple store.
The good news, I suppose, is that the other Beijing Apple store in Xidan has been selling the phones without incident, and they're also available via China Unicom's website, although that apparently has been having issues since midnight when the phones went on sale and its servers got slammed.
It is unclear whether the Apple Store in Sanlitun will resume selling the phones tomorrow or not, but a guard at the store told Sina Tech reporters that sale of the phones would not resume today.
Regardless of that, I've got to say I'm starting to wonder about the state of humanity when the launch of a shiny phone (or tablet) continues to inspire actual violence in people. This is the second Apple launch in a row that's seen tempers boil over, and while I'm not sure exactly what happened late at night, the idea that people feel so entitled to buying an iPhone 4S on launch day that they would leave, buy eggs, and come back to egg the Apple store in retribution is, well, pathetic.
[Via Sina Tech]