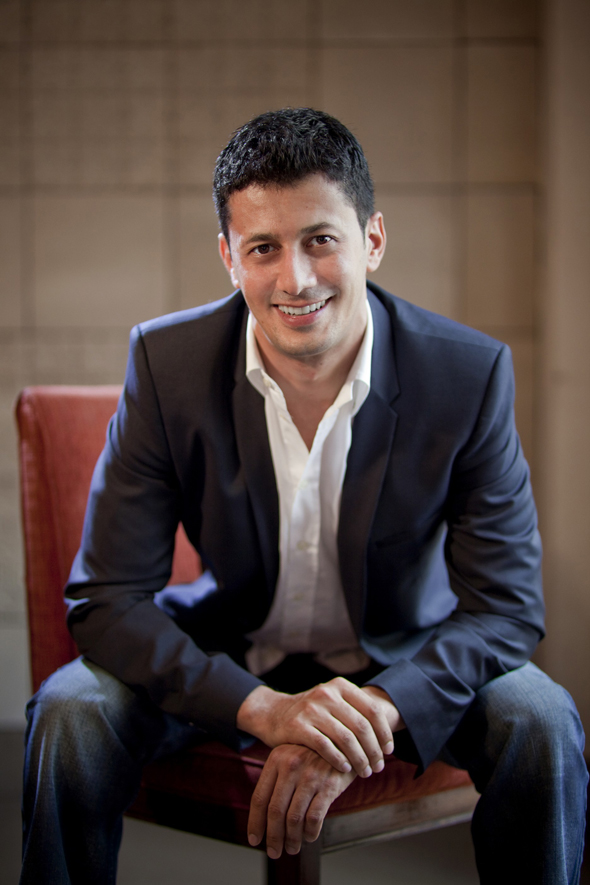 Nestled within the F11 incubator space at the gleaming Fusionopolis building, engineers from advertising solutions company ADZ are hard at work refining a product which they hope could change the way advertising campaigns are run.
Walking past the spacey office shared between a few technology startups, we ventured into a meeting room, where ADZ founder/CEO Reza Behnam and systems technologist Thomas Gorissen are sitting. Taking time out of their busy schedules, they explained to SGE how their product works.
"Imagine iTunes, where buyers can search for the music they want and buy it. We're doing something similar for the advertising industry, where we're aggregating advertising impressions and allowing buyers to buy from a variety of publishers' ad inventory," says Reza.
Here's what ADZ proposes to do: It is an online, global marketplace where advertisers bid for ad space from publishers. It offers a mixture of proprietary and available best-of-breed tools that help advertisers optimize, analyze, and run their marketing campaigns. On the other side of the ecosystem, publishers can monetize their inventory of ad space and the knowledge of their consumers.
Last but not least, ADZ is an online platform that strives to present these complicated technologies in an easy-to-understand and user-friendly interface for both advertisers and publishers.
In plain speak, ADZ allows, for example, a Singapore Airlines marketing executive to buy ad space in The New York Times and conduct an online advertising campaign from the comfort of an office chair, using a collection of tightly integrated, online software.
In advertising parlance, ADZ combines a variety of ad networks, ad exchanges, and supply-side platforms into one comprehensive, end-to-end product.
Sounds ambitious? It is. The idea came to Reza while he was working at Yahoo! in 2006. He saw how marketers struggled with online advertising, complaining that it's too complex and difficult to execute.
Furthermore, online advertising is a lucrative gold mine that has not translated into a gold rush. While people spend massive amounts of time online, advertising agencies are not allocating an equally ambitious online marketing expenditure.
"Part of the blame lies with advertising and publishing industries as we have not made display advertising easy enough to execute and buy," he says. "The search players have done a better job in standardizing the approach to buy search."
He observed that there was room for infrastructural innovations that could make online advertising easier. Also, Asia (excluding Japan), with a much less developed and complex online advertising ecosystem as compared to the United States, was a prime place for such a product to mushroom.
Reza evangelized the idea to advertisers, and he sought an entrepreneur to drive the innovation.
"But I couldn't find one with sufficient knowledge of the advertising industry to run the show," he says, smiling.
Which was why he took up the challenge, founding ADZ in 2008.
While the product is in the test phase, it has already amassed a massive inventory of publications. They include the likes of CNN, Sydney Morning Herald, to even online games site Armorgames.com. All this made possible through aggregating publisher inventory from multiple ad exchanges, supply-side platforms, and networks.
"We literally have thousands of publications from around the world," he says.
Trial campaigns are being run on test budgets by several major companies. They include a number of major advertising agencies, a top handset manufacturer, tourist destinations, airlines, insurance companies, banks, among others.
"We hope to start with real budgets soon, which are one to two orders of magnitude larger in the next month," hese says.
But already, ADZ has already attracted investment from the National Research Foundation, Joi Ito of Neoteny Labs, Toivo Annus, co-founder of Skype, and many others.
They can now add Facebook co-founder Eduardo Saverin to the list. ADZ recently announced that Saverin will be appointed to its board of directors and participate in its Series A financing with an undisclosed sum.
So far, the publishers are mainly from international websites with a presence in multiple countries. But Reza hopes to feature localized websites soon.
"Like your Hungrygowheres and Hardwarezones," he adds.
Besides a marketplace where bidding takes place automatically once the parameters are set, ADZ offers campaign analytics for marketers, allowing them to track how well their efforts are doing and reallocate their budgets on-the-fly if necessary. They may even set parameters like CPM, CPC, or CPA, and allocate maximum bidding prices and campaign budgets.
If advertisers want to target a specific population segment, they can: Just select a combination of profiles, such as the time they visit a site, their age, or their country of origin. Combining advertising impression from publishers with non-identifiable, anonymous data allows advertisers to buy "audiences" rather than "sites".  This addition of data also allows publishers to increase the value of their advertising impressions.
ADZ also provides publishers with tools to manage their inventory, such as the ability to sell their ad space to a specific audience segment by matching them with the right advertisers. Publishers will also be able to gain insights about their reader's behavior using built-in tools.
In a keynote presentation made at the Ad Trading Summit Singapore recently, Reza pointed out that demand-side platforms and ad exchanges could lead to cost savings and higher ROI for both advertisers and publishers. This allows advertisers to maximize their ad spending and publishers to earn more from their ad space.
Efficiency gains could also result from the elimination of arbitrage — where publishers purchase advertising for themselves at a lower price, but charge advertising to clients at a higher price. Such opaque practices could be reduced with the usage of ADZ, which would enable more price transparency between  advertisers and publishers.
When asked about potential obstacles ADZ might face, Reza says it boils down to execution. "In the business world, a good plan is valuable only if executed well.  In fact, execution is biggest determinant of a start-up's success."
At this point, systems technologist Thomas got up, craddling his MacBook.
"That's why I'm going to leave now," he says, before leaving the room.
Images courtesy of Reza Behnam and ADZ