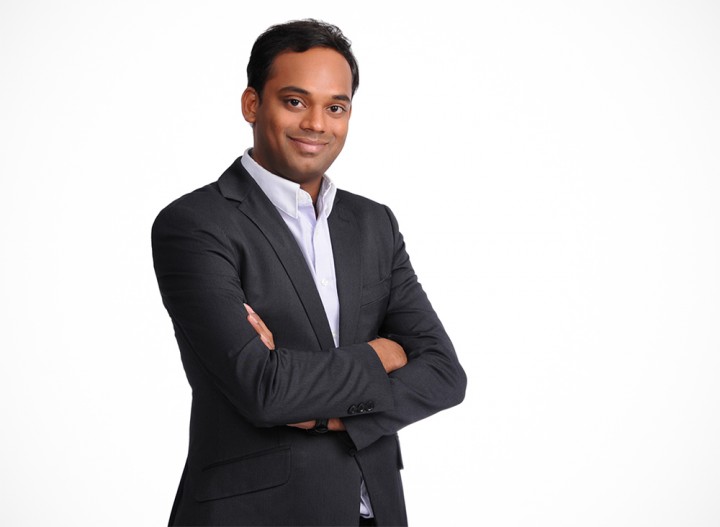 Ashwin Gayam does not come across as your typical CEO. While he looks the part, he is fundamentally a technologist at heart.
His resume bears that out: four years at business school INSEAD serving a technical role, rising through the ranks from software developer to research team leader.
But he had to make a choice at the beginning of 2012: steer his ship or watch it sink. He switched from being the CTO of his company, Fisheye Analytics, to the chief executive.
The move paid off. Eventually, Fisheye got acquired by global marketing conglomerate WPP for a few million dollars with an unaudited revenue of $622,000. They had no external investors.
The situation leading up to his choice was grim. With grand ambitions of being a product company with consultancy and customer support elements, Fisheye sought to raise at least a couple million from venture capitalists.
The company, which was founded in 2009, did not seek angel investments since they were able to pay employees with their first deal. It made no sense to raise six-digit investments from angels when they could easily use the time to secure contracts worth equally as much.
Swimming with sharks on empty stomachs
But getting capital of that magnitude is time-consuming. It meant the company had to stop its sales activities and focus on talks with investors, negotiations over terms, and due diligence.
The effort, which took up half a year, did result in three offers, but the company didn't accept them. Gayam says:
Some of them basically wanted 50 percent equity for what we were asking. They were taking advantage of us because we were seen as weak.
The company bled as they entertained investors. There wasn't a right fit to begin with: venture capitalists sought high-risk, high-return businesses with 10x multiples, so they were listening for specific buzzwords in the pitches.
But Gayam felt his approach towards the analytics business wasn't suited for that – he wanted a more personal touch that traded off scalability for quality of service. The human element, he says, is necessary in this business, and the investors didn't get that.
At the end of the ordeal, their cash flow dwindled fast – they could only last for four months tops.
Knowing exactly what needed to be done, the leadership team agreed that he should be in the driver's seat. His co-founder and then CEO decided to step into a non-executive role as a director.
"I felt then that we should just grow organically. No more changing of business strategy. No more pivots or changes," he says.
Fisheye, in its latest incarnation, would become a services company with a heavy tech component. It utilizes custom-built scrapers to scour the web for reactions to a client's event or campaign. It builds its own software, too – a dashboard where clients can gauge sentiments in both online and offline media.
This, Gayam reasoned, would be its ticket to success.
Our tech mattered less. What's more important is the human touch, answering calls at 3am in the morning for our clients in Europe.

Who doesn't love freebies?
The company struggled to stay afloat in the first few months after Gayam took over. Besides $40,000 – or 79 percent of expenses – in payroll every month for ten full-time employees, they also had to pay annual server costs worth $70,000.
Office rent fortunately took up only $1,000 a month, and they were on friendly terms with JTC Corporation, which gave them the flexibility of giving up the space on just one month's notice.
With no liabilities but limited time, the team went on a mad scramble to secure contracts, and they needed a breakthrough. Fortunately, Gayam had a strong team of fresh graduates with good grades who eschewed the corporate job path to work in a startup.
We were very cost-conscious. The team worked hard, and we used every single member to the maximum extent.
They believed in his vision, which Gayam made sure he communicated clearly. Celebrating small victories boosted morale: even if they don't win, at least they had pleasant memories.
While Gayam spearheaded sales efforts, everyone chipped in to an approach that drastically shortened the typically long, relationship-oriented corporate sales cycle.
In short, it involves a lot of preparation work. Before contacting each potential client, the company would research past events organized by the target. They scoured the web with their home-baked scrapers to conduct sentiment analysis.
They would then create a report and present to clients on how their event performed and what could be improved. It wasn't a simple sales meeting – clients debated with the firm about the analysis, and this drastically shortened the sales cycle as they saw how useful the tool can be.
Offering free consulting as a starter also worked. Fisheye offered free trials to some of its customers. In return, it asked that they take the offer seriously.
The approach proved effective for Gayam, who embarked on an European business trip at the end of 2012 that became a turning point for the firm.
Small fish in a foreign pond
Renting a cheap motel for two weeks, he leveraged on his contacts to secure meetings with various government bodies in Europe. He closed $350,000 worth of in-principle sales within two weeks – enough to sustain the firm for eight months.
Not bad for a self-professed geek who has never sold to a single client.
These weren't small-time clients, either; they included OECD in France and the European Commission in Brussels. His trip to the Middle East yielded similar results, bagging him contracts with the two largest government bodies in the United Arab Emirates.
Significantly, Fisheye was a small foreign firm that was on the home ground of some of the world's largest marketing agencies. It's like a third division football club entering Old Trafford to seal a win against Manchester United – humiliating for the richer, more established marketing firms.
It helped that Fisheye already had the World Economic Forum as their first client, a coup that smoothed the way to securing deals with other governmental organizations.
The trip gave more than a financial lifeline. Competitors sat up and took notice. They included Kantar, a subsidiary of WPP, a marketing giant with a revenue of $16 billion in 2012.
"Big companies have big egos, and they don't want to lose prestigious customers to small companies," he says, adding half-jokingly, "if you can win tenders and customers, send a mail to your competitors saying that while we've won this customer, we are fine with working with you too."
Not seeking acquisition, but got it anyway
Fisheye was in some ways an old-fashioned company. Unlike startups groveling after quick exits, Gayam preferred to grow the business slowly. In his words, he did not "resort to gimmicks" to get acquired.
WPP approached us. We were never-acquisition minded. The best way to get an exit is to please clients in a way big companies can't. We pissed off competitors by getting touches with big customers.
While he was aiming to build a sustainable business, the acquisition offer felt right. Fisheye's product was really good, but had limited reach because it could not afford a sales force. It's reassuring that as part of Kantar Media, they now have 40 people to push the product to clients.
"That makes me happy," he says.
Now, besides servicing new clients and maintaining existing ones like the International Olympic Committee, Gayam is also helping to devise Kantar Media's social media strategy.
He has invested his money in stocks and is looking to become a hands-on angel investor who doesn't just write checks.
He also hopes to get back into the entrepreneurship game one day.
The good thing about working in a corporation like WPP is that I get access to so many contacts – I can't believe it. An exit does give you credibility and access.
(Editing by Paul Bischoff)