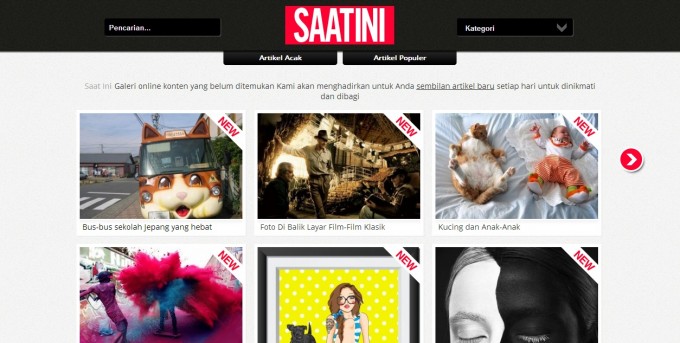 Indonesian marketing company eXo Digital Agency, the same one that co-founded the sporting news and sexy lady pictures portal DewiBola, has launched another media startup. It's called Saat Ini, which in Bahasa Indonesia means "Right Now". Co-founder Romeo Reijman describes Saat Ini as an online media gallery which contains interesting information that users will want to share. Just like DewiBola, Saat Ini is a joint venture startup, this time between the marketing agency and an undisclosed party from the Netherlands.
Saat Ini's articles consist mostly of interesting pictures or videos, with only a minimal amount of text. Examples of Saat Ini content would be pictures of The Dark Knight movie cast taken behind the scenes, or a video of an artist doing a portrait of his father with 3.2 million ink dots. Its contents look a bit like the humor site 9Gag, but comes with a nicer UI. Romeo said that all of Saat Ini's articles are meant to be casual and fun for readers to comment on and share with their friends. He says that Saat Ini's name represents what's hot online right now.
Romeo believes that there's a demand for startups like his. Saat Ini, he said, is created based on his team's analysis of behavior and interests among a range of online communities. Although the website has been in operation for just one month so far, he sees that almost 35 percent of the traffic came from direct search results, and these people often come back to see if there are new articles on the site. He mentioned that the only similar content hub like his in Indonesia is Pulsk. But while Pulsk is user-generated, Saat Ini's content is handpicked by a team of editors.
Just like DewiBola, Romeo said that revenue isn't their focus just yet, but that they see this project as a gatherer of community members first. Saat Ini doesn't have any investors at the moment, but is open to any interesting form of cooperation.