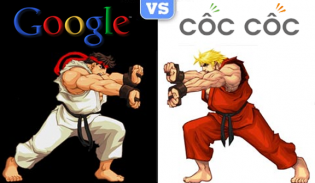 In a recent report from the Voice Of Russia, the Russian-backed Vietnamese search engine CocCoc is apparently getting more than one million searches per day. That's a significant step over what Victor Lavrenko, CEO at CocCoc, told me in June at the Tech In Asia Meetup. At that time, CocCoc had just about 300,000 monthly users (meaning very few daily searches).
Since then, the company spent heavily on advertisements across Vietnamese content websites for its web browser Corom, which, as some users have noted, sounds suspisciously like "Chrome". This, no doubt, has contributed to uptake of CocCoc as a search engine. Lavrenko also argued in June that CocCoc does not need to be 100 percent better than Google. Just one percent is enough.
As you can see from this data on Alexa, CocCoc is now ranked as the number six website in the country. Google.com.vn is number two and Google.com is number four.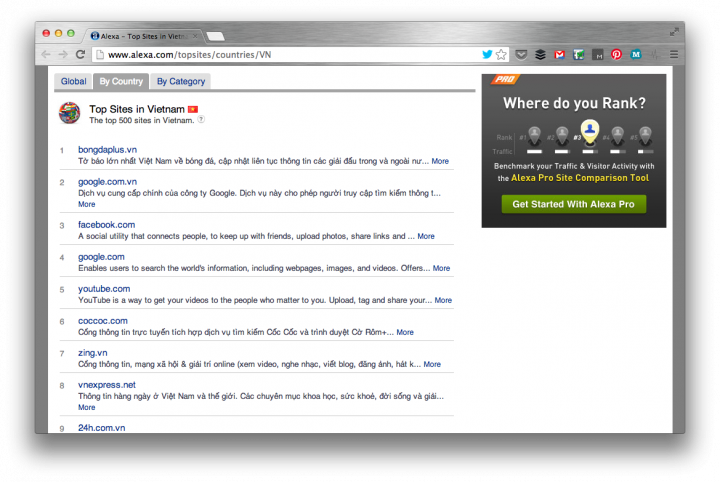 I emailed Lavrenko and asked for clarification, and he had this to say:
We outperformed VNExpress recently, and now only Zing is more popular than we are. I think in just a few weeks we'll be the number one.
But as you can see in the picture, CocCoc has already outperformed Zing and is now on the path to number one. On the other hand, Bongdaplus, a website dedicated to soccer is ranked as number one. Anybody want to call bullshit on Alexa rankings with me?
But that's not the whole story
Although Alexa shows CocCoc on the up and up, SimilarWeb, a similar service to Alexa, says CocCoc is going down. I chatted with Wada CEO, Pham Tien Thinh, to get his perspective. Wada, besides Google, is CocCoc's other key competitor. It doesn't even rank in the top 50 on Alexa. It's also backed by Russian money and operates heavily in the search engine space, but its strategy leans more on mobile apps and search bar integration.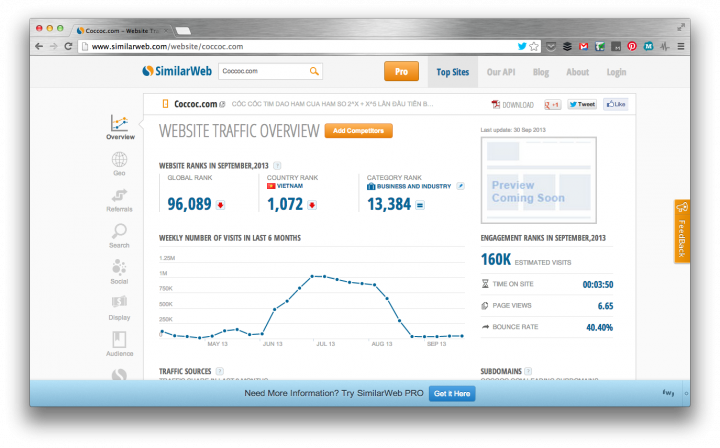 Pham gave us some numbers on Wada's progress:
Since we released the new interface and mobile version, our numbers have reached over three million unique visitors, 6.8 million visits and 11 million pageviews per day. On top of that, WADABar continues to contribute significant number of pageviews (over 6 million per day).
In other words, both sides have a lot of numbers to throw out. I contacted Google to ask its total searches in Vietnam per month and will keep you posted if we get a response.
Searching for Vietnam's search market
As stated before, CocCoc and Wada have each spent over $15 million battling for Vietnam's search market. If the above numbers are true, then the money has been well spent, and we may see potential for disrupting Google. I still think it's a longshot, though. Even if CocCoc is getting one million searches per day, that's only about 3 percent of the internet population. Wada, via mobile, may be touching up to 10 percent of the market. At the end of the day, will these two companies be able to secure enough money to keep themselves alive and battle Google? After all, Google itself stole the AdWords business model from another competitor and has been hacking it for years. CocCoc and Wada are still working on getting their sales in shape.
(Editing by Paul Bischoff and Steven Millward)