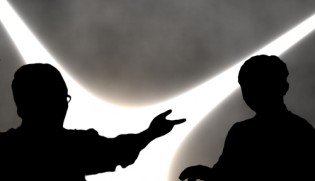 To say that Qihoo and Baidu don't like each other would be an understatement. The two CEOs (Zhou Hongyi and Robin Li respectively) have a personal feud that goes back years and that has clearly bled into Qihoo's strategic planning. Recently, the blustery Zhou has been unusually quiet in the press, and has resolved several disagreements with other tech CEOs. The prevailing theory in the industry seems to be that he has decided to focus on his "true" enemy: Baidu's Robin Li.
To that end, Time Weekly is reporting that it has obtained information suggesting that Zhou recently met with Sogou CEO Wang Xiaochuan in secret. Although they have sparred in the press before, supposedly at this secret meeting the men discussed a possible partnership between their companies in the search arena. Does that mean that Sogou and 360 Search are going to come together and try to take down Baidu as one unified search engine? Who knows. The meeting and whatever plans the men may have made remain purely a rumor, although both men declined to comment when asked by reporters from Time Weekly whether the meeting had occurred.
Even if a secret alliance — how dramatic sounding! — was formed, though, it will be a long road to the top. 360 Search and Sogou are the second- and third-biggest search engines in China by traffic, but there is still a vast gulf between them and the number one spot. In December, for example, their collective percentage of search engine pageviews in China adds up to just over 18 percent. While that's certainly nothing to scoff at, it's still a far cry from Baidu's dominant 71 percent.
Still, the fact that Zhou has apparently squashed his beef with Wang and Sogou is indication enough that Zhou is dead serious when it comes to taking down Baidu. And of course, Baidu has been making a few moves that seem aimed at taking Qihoo down a peg, too. Although conflicts have been flaring between the companies over the past half-year, it seems possible that this is only the beginning. The first battles have been fought, but a much bigger Baidu-Qihoo war appears to be on the horizon.
(Time Weekly via Sina Tech)