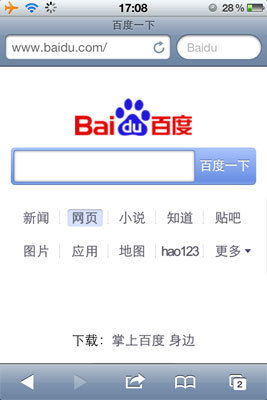 Chinese news portal Sina Tech is reporting this morning that according to "knowledgable sources," Apple (NASDAQ:AAPL) will integrate Baidu's (NASDAQ:BIDU) search function into its iOS mobile operating system next month. Apparently, Baidu's cloud and mobile chief Li Mingyuan hinted at this during the launch of Baidu's cloud storage service last week, saying that the company already had a comprehensive cooperation agreement with Apple in China.
The implementation would give Safari users on iOS the option of setting Baidu — rather than Google — as their default search engine.
Neither Baidu nor Apple has officially confirmed this rumor yet; however, it makes a lot of sense. We already know that Baidu search has been implemented into the next version of OS X (along with a host of other Chinese web services), so it seems that Apple would extend it into iOS sooner or later. Whether or not it really is revealed next month, we fully expect to see Baidu search implementation in iOS sometime this year.