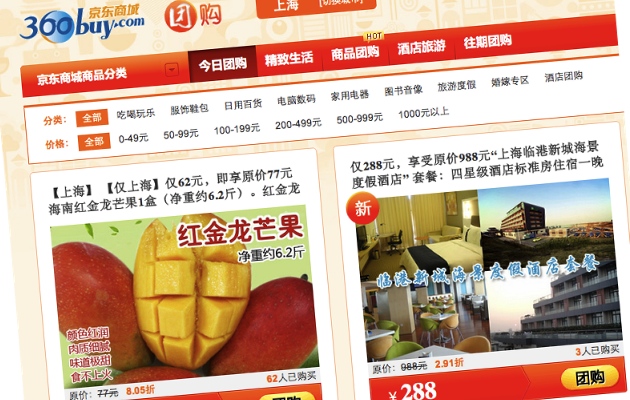 There's a rumor in China's online retailing industry that 360Buy, the country's second-biggest B2C e-commerce site, is seeking to outsource its daily deals business, perhaps to 55Tuan or Lashou.
The rumor suggests that 360Buy is not looking to get out of daily deals per se (which is but a small part of its overall offerings), but might instead be wanting to outsource the localised elements of the labour-intensive business. Apparently the company has approached a number of group buy sites who might make good outsourcing partners, though only 55Tuan and Lashou have been mentioned by name.
The last time we looked at market share among deals sites, we saw that 55Tuan had 11.8 percent of the market (for February 2012) in terms of total revenue, putting it in second position behind only Meituan with 15 percent. Lashou, meanwhile, has been on a bumpier course of late, and is now the fourth-largest deals site in China.
55Tuan's co-founder is Singaporean James Tan, who spoke at our Startup Asia event earlier this year, where he revealed that "every day we transact more than $1 million." We've reached out to Mr. Tan and will update if he's able to comment.
360Buy's deals portal (pictured above) is currently running in only 21 major cities across China, making it much shorter in reach than all the leading deals sites.
[Source: Sina Tech news – article in Chinese]