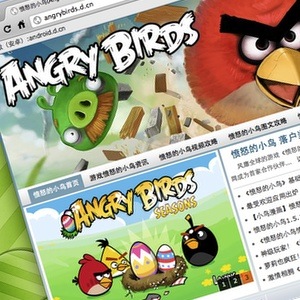 Rovio Mobile, creators of the wildly popular game Angry Birds, has partnered with a leading Chinese downloads portal to bring official versions of the game to China's mobile users.
As a result, DownJoy.com now offers free downloads of ad-supported versions of the three cult classic mobile games: Angry Birds Seasons, Angry Birds Rio, and the original Angry Birds, via a special themed page on DownJoy's site at angrybirds.d.cn.
On that page, anyone who wants Android versions of the games can direct-download the '.apk' files – while those seeking the iPhone or iPad iteration get scooted off to the iTunes App Store.
Of course, Android users in China can get the games from the official Android Market in China – which supports free apps only – but not all Android devices sold in China come with the Market installed. That's because a good many are sold with unofficial ROMs that have a baked-in alternative app store.
Not all those Chinese alt app stores are trustworthy, and might contain pirated and/or malware-tweaked apps (indeed, DownJoy itself is not exactly a piracy-free zone). So, for Rovio and DownJoy, the partnership is as much about users' security as business. "In the past, other platforms that offered the Angry Birds game were all bootleg versions," said Downjoy spokeswoman Liang Shuang. "But with this, Downjoy has worked through Rovio to provide an authorized official version of the game."
Aiming for 100 million gamers
Rovio is aiming to have 100 million downloads of all its Angry Birds games in China this year, and this partnership is a move towards that goal. Although China has an ever-increasing 889 million mobile phone users, a small fraction of those have iOS or Android smartphones – so I suspect Rovio also needs to work out something for the Nokia version of its games (not included in this DownJoy tie-up) to hit that huge number as accurately as an angry bird hitting a sniveling green pig.