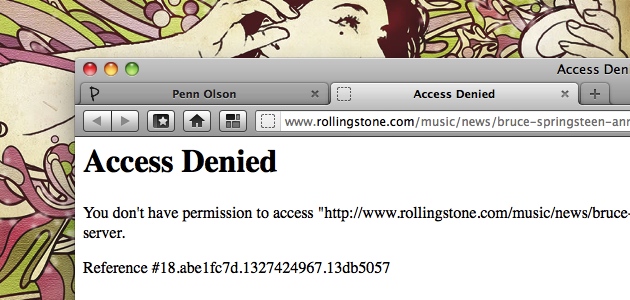 Access Denied! That's the message greeting China-based readers of Rollingstone.com, the online version of the iconic music and cultural magazine Rolling Stone. But this isn't the work of the rampaging Net Nanny but rather a deliberate block on Chinese IP addresses that seems to stem from the publishers. That ain't very rock 'n' roll.
As it's a geolocation-based restriction, let's say it has been geotarded, which is my favourite etymologically-edgy epithet. This is usually done by music or video content providers who want to stop certain regions from accessing licensed content, but it's rarely done by news or topical sites. We reached out to Rolling Stone for comment late yesterday, but have yet to get a response.
The geotarding seems to cover the whole of mainland China but not Hong Kong, as I was able to confirm by using a HK-based IP proxy. Going to any page on the website brings up an error message, such as:
Access Denied. You don't have permission to access "http://www.rollingstone.com/music/" on this server.
And then there's a long reference number, as shown in the top image. The Twitter user @beijingdaze, who first alerted me to this, says that access was normal to the site very recently and the geotarded blank page has only showed up in the past two days.
In this unusual scenario, there are a few possible reasons for Rolling Stone making this very un-liberal exclusion: perhaps the site was the victim of a hack attack that emanated from China, and therefore wanted to lock itself down; it was done to protect the copyright of new music or video on the site; or, it's some technical error that no internal tech staffers have spotted.
The magazine version of Rolling Stone was launched in China in early 2006 only to be strangled by interminable red tape just a few weeks later. The publisher Wenner Media persisted, and it was resurrected with a different name and a fresh publishing license a short while later. It's currently sold branded as 'InMusic' magazine (as pictured above).